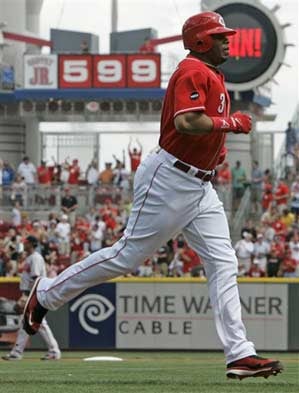 Ken Griffey Jr. wasn't able to hit his 600th homer yesterday, depriving the Great American Ballpark fans from the opportunity to see the milestone. (And then see Griffey get traded.) The Reds now take off on an eight-game road trip, and you'd have to think Griffey's gonna hit at least one over those eight games. And that would make him the fourth ever player to hit 600 homers. Wait ... fourth? Well, according to MLB, yep.
Constant MLB.tv ads have featured the following copy:
"Willie Mays, September 22, 1969…600.
Babe Ruth, August 21, 1931…600.
Hank Aaron, April 27, 1971…600."



Then the screen flips to Griffey, who sits at 599, and he says, "Ken Griffey Jr…. keep watching."
This ignores, of course, Sammy Sosa and that Bonds guy, who actually reached a rather lofty milestone just last year. (And it really was just last year.) The big question has been how MLB would handle the steroid era, and we're already getting a pretty good idea: Just ignore it. Boy, doesn't Tim Forneris feel even dumber now?
As Griffey Approaches 600, MLB Whitewashes History [Wicked Good Sports]