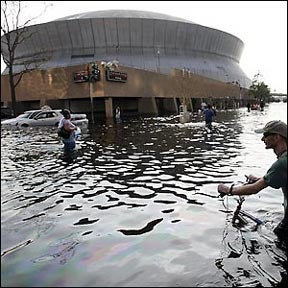 We suspect that tonight's "Monday Night Football" telecast from the Superdome will have the electricity and emotion of last year's MNF game, if just because we don't think Bono's gonna make the trip this year. (However: "Cowboy Mouth" will be in the house!_
Mainly, the Saints look like they need to save their season; they've got a bye next week and could be looking at two weeks off at 0-3. That won't be a pleasant experience. Meanwhile, Vince Young hasn't had his Big Monday Night Football moment yet; doing it in New Orleans would be a nice touch.
Enjoy the broadcast crew; you might remember, there was a bit of a tragedy in New Orleans a couple of years ago. Prepare for regular reminders.