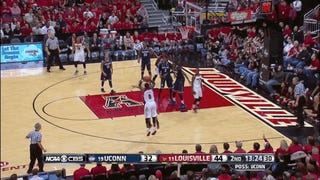 Montrezl Harrell was dominant in Louisville's 81-48 stomping of UConn today. He finished with 20 points, half of which came off dunks. According to Verne Lundquist he's got 83 dunks on the year. This is a nice one. So is this: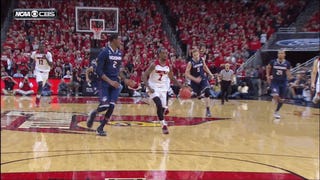 The Cardinals win, coupled with Cincinnati's earlier win against Rutgers, means the American Athletic Conference title will be decided by a coin flip. Yup, a coin flip.
Heading into play Saturday, both Louisville and Cincinnati were 25-5 overall and 14-3 in the conference. Since both teams won, the SMU-Memphis game became implicated.
If Louisville, Cincinnati and SMU win, then Louisville gets the top seed (would be 4-0 against SMU/UConn, while Cincinnati would be 2-2).
If Louisville, Cincinnati and Memphis win, then a coin flip will determine the 1/2 seeds. Both UC and UofL would be 4-2 against the group of SMU/UConn/Memphis, which would be tied at 12-6.
Memphis beat SMU so we'll need a coin flip, overseen by a neutral observer. That neutral observer? Bill Raftery.
[CBS]