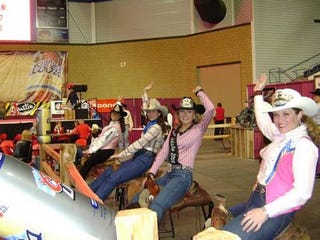 It's been an uneventful week in Mattoon, Ill., where the women are robust, the men are pink-cheeked, and the girls ride the mechanical bull while topless.
That real-life Winesburg, Ohio, is in the news again. This time a local bar owner has run afoul of the town's obscenity laws after a bull-riding competition got a little PG-13. Bar manager Kevin Parrott was fined a whole $75, but disputes reports that contestants went the full monty.
He and the owner declined an on-camera interview, advised by their lawyer, but they maintain that both the men and women were not naked in the bar. Parrott said that some of the people did take their shirts off, but he stressed that the women were not nude.
Got that? Topless, but not nude.
This story is a good excuse to post the best mechanical bull ride in recorded history:
Mattoon Bar Under Microscope After Bull Riding Contest [WICD]
•••••
That'll do it for the day. T.J. Craggaulerio will be with you tomorrow, and I'll be around on Super Sunday. Now go play in the snow.