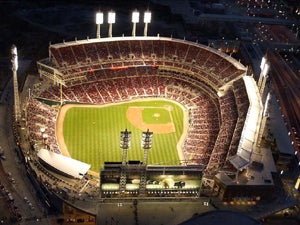 Even though the Reds have had more success this year than most might have anticipated, they haven't felt a major boost at the turnstiles, with attendance up slightly, but not significantly, over last year. So they've come up with a new idea for bringing fans to the ball park: Make them feel like they're being attacked by terrorists!
On September 30 — the last weekend of the regular season — Great American Ball Park will feature a simulation of a "full-scale terrorist attack." The team is looking for volunteers to play "Fucking Terrified Citizen" and is offering them vouchers for two Reds tickets in 2007. It's actually not a bad deal, if you can get up early; volunteers will be there from 7:30 until about 10 a.m.
If anyone is able to go, we discourage people from screaming in hysterics and running to freedom, and instead suggest they leave the park in a calm and orderly fashion, if just because you'll lose your free tickets otherwise. If you're need motivation for the "terror" expression, we suggest thinking, "Danny Graves." Should help.
Reds Seek Volunteers For Simulated Terrorist Attack [Cincinnati Business Journal]