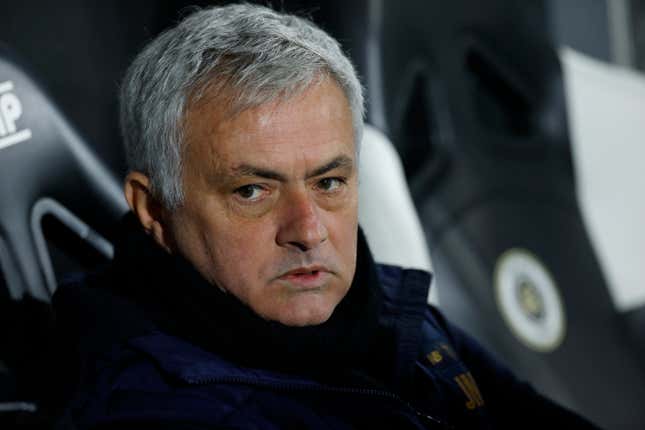 Gregg Berhalter's days are numbered at the helm of the United States men's national team. The Yanks didn't win a knockout stage game in Qatar and Berhalter is under investigation from a domestic violence incident that occurred 31 years ago, where he admitted to kicking his now wife. US Soccer only learned it happened as alleged blackmail originating from former USMNTer Claudio Reyna and his wife Danielle, parents of promising American youngster Gio Reyna. And in the continuing mess that's currently US Soccer, Jose Mourinho might be Berhalter's replacement.
Can Liverpool Win The Quadruple? | What You Need To Know | FA Cup
Mourinho, the current Roma manager, has expressed interest in coaching a national team in the past and is on the shortlist to helm the USMNT moving forward, per a report from World Soccer Talk. His boastful coaching style has endeared him to many players and fans and turned off just as many. Mourinho's resume at the club level is as impressive as anyone walking the planet. Name a big club in Europe and there's a decent chance Mourinho has been the team's manager. He's patrolled the sidelines at Real Madrid, Chelsea (twice), Manchester United, Tottenham, Inter Milan and Porto in his native Portugal. Who else is on that US Soccer shortlist? Obviously, it's not public information, but French headbutting legend Zinedine Zidane, who last coached Real Madrid, reportedly doesn't want to be the team's next coach.
Berhalter isn't coaching the USMNT in its January camp that started on Saturday and won't lead the team for either of its games this week against Serbia or Colombia, the Yanks' first since their Dec. 3 loss to the Netherlands at the World Cup. Assistant coach Anthony Hudson is in charge on an interim basis. And with the United States' participation in the 2024 Copa America allegedly likely, if not required by hosting the showcase, installing the right permanent manager for the next World Cup cycle needs to happen.
Definitely not a sure bet
Mourinho would be a tremendous risk. Managing at the national-team level is much different than a well-financed club. There's no such thing as buying skilled players to replace any inadequate ones. Managers can groom players to fit their tactics and promote their systems to win games. That's flipped at the international level, where hand picking the best players eligible to represent their country, then basing a system around fielding the best possible lineup at any given time is the way to success. That's the exact critique that left many USMNT fans angry with Berhalter before Qatar. It still makes no sense why he preferred Jesus Ferreira as the team's striker despite plenty of better options. Berhalter's World Cup system also left Brenden Aaronson and Reyna on the bench to start all four games. And that's indefensible.

The youngest Reyna allegedly mailed it in during pre-World Cup training, leading to the disgusting reaction from his parents. Berhalter didn't out the 20-year-old Reyna for his supposed unprofessional behavior with the press on a few occasions, when asked about his lack of inclusion in games. Reyna's first post-World Cup appearance occurred Sunday for Borussia Dortmund and he scored a banger seven minutes after coming off the bench. If US Soccer can only move forward with the Reyna family or Berhalter, it's a little sickening, but exiling Gio isn't an option and the USMNT will have a new manager leading the squad into the 2026 World Cup.
Leveraging being co-hosts for the next World Cup into global glory is a requirement to grow the sport domestically. The USMNT in 1994 set the floor for what's acceptable in a World Cup. And the USA has only gone farther than that Round of 16 exit once since and never defeated a non-CONCACAF team in the knockout stages. The American talent pool is as deep as it's ever been right now, and it looks to only be growing. Making the right personnel decisions to better American soccer forever is on the table. And therein lies the dilemma of who the next coach of the USMNT should be if US Soccer moves on from Berhalter.
The pristine view of the USMNT at the 2026 World Cup has the team coached by an American, possibly even someone who's been capped with the team before. But what US citizen has coached at the national-team level before and it has not been with the USMNT and has the acumen to be a success? US Soccer must hire an American who's never coached at the international level or a non-American who has. And Mourinho is neither, meaning he should be ineligible for coaching the Yanks moving forward. Mourinho's always around for a good time, not a long time. And that's exactly what US Soccer doesn't need in a new coach.