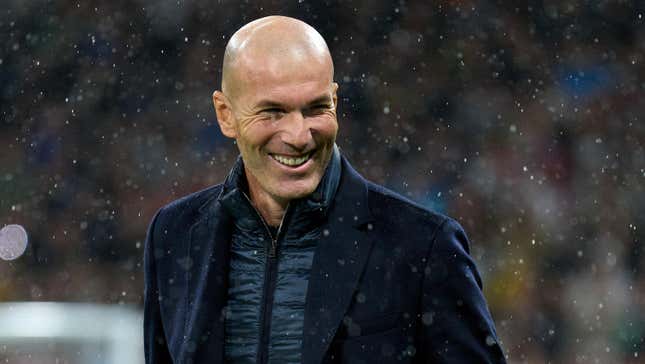 We joked a couple days ago that US Soccer had become France without the success, delving into behind-the-scenes drama and parental strife. Little did we know how much like France they reportedly wanted to become. Reports started leaking out over the weekend that Zinedine Zidane had turned down an approach from US Soccer to take over as the USMNT's manager.
Can Liverpool Win The Quadruple? | What You Need To Know | FA Cup
It's not a huge shock that Zizou wouldn't even hear a proposal, as he's made it quite clear that the only international job he'd be interested in taking over is France's. Though with Didier Deschamps reupping through the next World Cup, maybe that dream of his is fading. Reportedly he's also shunned Portugal and Brazil. He's made it clear he doesn't really want to move too far or take a job where he doesn't speak the language. Having to spend a portion of his winters in Chicago, where US Soccer HQ is located, somehow didn't make him forget those two qualifiers. Shocking, I know.
What does this mean for Gregg Berhalter?
The fact that US Soccer even had his name come up is eye-catching for a host of reasons. First and foremost, the timing of it can't be ignored. US Soccer is embroiled in a pretty sad and sorry controversy thanks to the Reyna family and Gregg Berhalter. You could argue they got themselves into it by not doing a thorough due diligence on Berhalter and finding out about his kicking of his now-wife 31 years ago. But it's also fair to wonder whether something that happened 31 years ago, that both Berhalter and his wife Rosalind say they've moved past to the point they've been married with four children, would have disqualified him from the job anyway. It's more likely no one would have known about it had the Reynas not completely wetted themselves over their kid's usage in the World Cup.
Even though this brouhaha essentially happened to US Soccer and not because of it (a departure for them, to be sure), it's not hard to get to the conclusion that they'd like to change the narrative and headlines around the organization, if only for a few days. What better way to do that than to make it seem like you wanted one of the most famous names in the game's history to come work for you and guide the USMNT into the World Cup they're hosting in less than four years? It doesn't sound like US Soccer ever really talked to Zidane rather than some intermediaries, and yet "sources" were only too happy to leak out that they had tried. Somewhere Robert De Niro and his porkpie hat are lurking in the background.
Is US Soccer changing its tune?
But, even just floating the idea of hiring Zidane is a new trick for US Soccer. And even if it was something of a "Hey look over there!," it would hopefully signal a new attitude from the organization. The feeling about US Soccer is that ever since the Jurgen Klinsmann what-have-ya, they haven't been too interested in hiring any manager who is going to rock the boat about how they do things, or try to upend the fiefdoms of various asshats and charlatans around the country, and also wouldn't take too much money either. Some have always ruminated that US Soccer imposed a MLS quota on every roster, though that's quieted down in recent years, as US Soccer isn't part of the league's marketing wing anymore.
Berhalter's hiring didn't do much to calm any of these complaints, as the organization never interviewed anyone else for the job after missing out on the 2018 World Cup (and there were some far more qualified candidates who actively wanted the job) and Repro. At the time of the hiring it definitely felt like a whole back-scratching, protect-our-own maneuver that US Soccer had become synonymous with.
The hope now is that even discussing Zidane, aside from the distraction portion of it, means that US Soccer is turning a new leaf and wants to simply hire the best person they can, influence and money be damned. It is pretty clear that the US cannot biff the next World Cup and need to have a good, if not historic, performance. There's no manager who can assure that of course, but there are ones out there who can come pretty close. Zidane is unproven on the international level, but would certainly command the attention of everyone in the squad given the resume just as a manager.
The USMNT job should also be a pretty attractive one for anyone on the scene. There is a roster full of players that should be smack dab in the middle of their peaks by the time the next World Cup rolls around. There isn't the media pressure, or anything nearing it, that one might get as the national team manager for other vacancies at the moment like Portugal or Brazil. There isn't really the demand for trophies either. If anyone taking over the position could produce, say, semifinal appearances in the Copa America (should the US participate in it) in 2024 and another one in the World Cup they'd go down as the most successful USMNT manager in history. They'd also be the first to make serious noise with the US, at least in 20 years and possibly ever, depending on one's view of 2002's quarterfinal run. That's an attractive combination.
The hunch was that US Soccer wanted to keep Berhalter around, because his performance has justified the organization's comfort with him not being a tide-turner. The noise around him now may make US Soccer just want to be clear of all of it. The easiest thing for US Soccer, Berhalter, and the players now would be to just move on and ditch most of the questions into the ground. But if they are going to move on, US Soccer seemingly would be backed into a corner of having to hire someone with pedigree and prestige. Otherwise, what's the point?
Maybe it was the soccer equivalent of starting a fake war in Albania, but that doesn't mean it isn't the right line of thought.