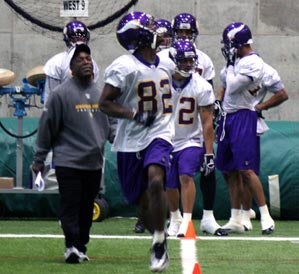 When we first heard that Minnesota Vikings wide receiver was being docked a game's pay for missing a game for his grandmother's funeral, we figured there had to be a catch. He had a history of skipping practice. He was generally an attitude problem. His grandmother was a Fascist. Something. But nope: They just flat refused to pay him.
Williamson's maternal grandmother, who helped to raise him and with whom he was very close, died last week and he returned to South Carolina, where he played a large role in arranging her funeral. He also had to make travel arrangements for several of his siblings, some of whom are in the armed services. He returned to the team on Wednesday as the Vikings began practicing for this Sunday's game against Green Bay.

The team apparently apprised Williamson on Wednesday that he would not receive a paycheck for the game that he missed. "I don't care if they would have [taken] my pay for the rest of the year, I was going home," Williamson told the St. Paul Pioneer Press. "It wouldn't have mattered to me."
So, he was docked one game check. If you're scoring at home, the infamous Vikings Sex Boat incident cost Fred Smoot and Bryant McKinnie ... one game check. Seems fair.
Troy Williamson's Wallet Is A Bit Lighter [Daily Norseman]
HOF Inductee: Vikings Sex Boat [Deadspin]