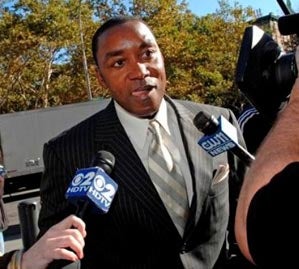 Time for an Isiah Thomas trial update: You know you've missed them.
The defense is presenting its case this week, and it is indicative of just how damaging and weird this trial has become that an incident in which an intern slept with Stephon Marbury in order to get a better job — and it worked! — is being presented in the Knicks' favor.
Kathleen Decker also acknowledged she landed a full-time job with the Knicks soon after [having sex in the back of a car with Marbury] - and got a big promotion six weeks ago as the $10 million federal sex harassment suit of fired exec Anucha Browne Sanders approached.

Decker, 24, said she never tried to hide the one-night stand and suggested she was being used as a pawn in Browne Sanders' suit. "I wasn't forced to do anything," Decker testified. "I wasn't drunk. I was in control."
So we now understand how it works at the Garden: Sleep with someone, and you move up the chain. Finally, Isiah's ascendance is explained.
MSG Intern Had Backseat Sex With Stephon [New York Daily News]