Two Middle Tennessee State football players have been indefinitely suspended after one took video of the other slapping a puppy repeatedly, according to the Daily News Journal.
Linebacker Shalom Alvarez was on camera hitting the animal, which yelped after each smack, and defensive lineman Justin Akins filmed it and posted it with the caption "[Expletive] said you don't pay rent [emoji]." Per the Journal, someone saw the video and informed the Murfreesboro Police Department on Apr. 6. Alvarez and Akins are reportedly being investigated for animal cruelty.
WSMV included the video, which appears to have been uploaded to Snapchat, in its news segment:
Head coach Rick Stockstill provided a statement to WSMV that didn't make much sense. He chalked up the abuse as part of disciplining a pet for peeing in the house:
I am aware of the situation and have talked to the players involved. The players explained to me that the puppy urinated inside and they were simply spanking it as a form of discipline. They told me there was never any intent to harm the dog. This was an important teaching moment. I talked to them about other approaches that should have been considered in this situation. And I pointed out how disciplining a pet in such a manner could be misconstrued, especially with the impact of social media.
G/O Media may get a commission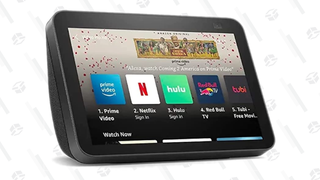 Middle Tennessee Athletics Director Chris Massaro released a statement regarding the players' suspension today:

The actions captured on this video are obviously disturbing. We welcome the inquiry by the Rutherford County Pet Adoption and Welfare Services. We have high expectations of conduct of our student-athletes. Coach Stockstill has suspended these players until the inquiry is complete and they will perform community service to the benefit of local animal welfare efforts.