Long before Harmony Korine made spring break synonymous with Gucci Mane and bikini-clad robbers, that school-free week of bliss in March was all about something else: MTV. The quasi-holiday inspired some of the best TV programming of the entire year, as the hedonism-obsessed channel decamped its entire lineup of talent and thousands of probably underage coeds to some sunny locale like Cancun for a few weeks. It was a thing of beauty.
If you, yourself, were lucky enough to go somewhere, great. If not, the annual week off you got sometime before Easter and after Fat Tuesday was still a good thing: You could still kick back on the couch and imagine you were dancing it out in Daytona on The Grind or watching Molly Sims and Tyrese host Fashionably Loud with musical guests Crazy Town, whom Molly referred to as "stylish."
Or maybe spilling your explicit fantasies to Jerry Springer on Springer Break was more your speed. He was a huge staple of MTV's mid-March programming in the late '90s.
By the way, remember DJ Skribble? I wonder what happened to that guy, because gigs emceeing Limp Bizkit shows at Isle of MTV have presumably run dry.
Starting in the '80s and peaking in the '90s, MTV's programming took the seediest, rawest parts of the college spring break fantasy, cranked up the nudity, told parents to stay the hell home, threw in some pop stars, and pointed cameras at it all. Somehow, the result made the image of puking directly in the sand at Panama City Beach while covered in grease and surrounded by other drunk kids seem like the most appealing thing ever. It was MTV! It helped that people were good-looking, even back when frosted tips and boy bands were the shit. Spring break on MTV elevated the best, seediest, don't-tell-my-dad-or-he'll-stop-paying-for-school-iest parts of that particular social occasion and put them on television. It was gold.
MTV Spring Break still exists, technically, but it's mostly just for one weekend, and a bulk of the programming has been relegated to MTVU. It's not what it was back in the days when Jerry Springer was giving cash-strapped college kids money to swap bathing suits in the back seat of a VW Bug, for example. Remember that game? Remember the one where you'd make your partner a swimsuit out of whipped cream? These affairs always involved lots and lots of whipped cream. And honey: Here's a girl rolling around in honey and feathers back in 1998 for Jerry Springer's I'm Spring Broke.
MTV has a long and rich tradition of making people do shameful, embarrassing things for money. Here's a clip from the 2002 Willa Ford-hosted spot I Bet You Will where people shot each other in the dick with grapes for money.
The basic idea here was to take the best/worst parts of teen sex comedies and recreate them with wildly attractive civilians and a handful of celebrities: Tara Reid handled some hosting duties in 2000, strip poker was a regular part of programming, and Carmen Electra was always a huge fixture. By the way, did you forget about the things I said when I was drunk? I didn't mean to call you that.
The show arguably coined the triple and quadruple on-air Cancun kiss (slight cringe.) It's crazy what kids will do in front of a camera when they're fueled by tequila—or what they'll wear. It's also worth mentioning that MTV Spring Break is a nice time capsule of bad style.
G/O Media may get a commission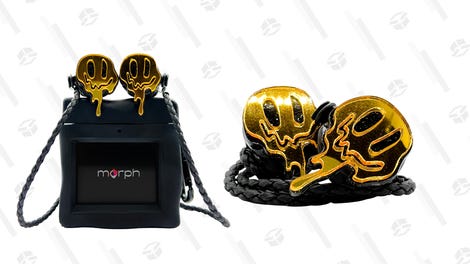 morph audio
Morph Earphones
"No non-jorts denim at the beach" is like Rule No. 1. The early 2000s was also a showcase of terrible hair decisions:
Oh, and don't forget the many, many bands we've forgotten. Here we have Dream, the girls behind "He Loves You Not."
While we're here, I know Carson Daly is a big Today Show host now, but we should never let him forget that he came from a cargo-pants-heavy background.
MTV still brings out the garbage in people in this year of our Lord 2015, but it just doesn't have the same shock value now. But we can still celebrate what MTV Spring Break hath wrought in the form of extreme seediness and excellent performances by sweaty pop stars. These are some highlights.
Naughty By Nature - "Feel Me Flow" (1994)
Biggie Smalls - "Big Poppa" (1995)
Aaliyah - "One In A Million" (1997)
Eminem - "My Name Is" (1999)
Destiny's Child - "Bug-A-Boo" (1999)
N'Sync - "Tearin Up My Heart" (1999)
Ashanti and Fat Joe - "What's Love" (2002)
Missy Elliott - "Gossip Folks"/"Work It" (2003)
Let's quit our jobs and hit the beach now.
Art by Tara Jacoby; images via Getty.