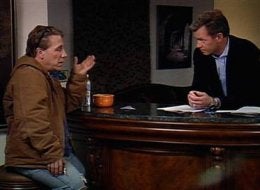 A fellow named Chip Williams, who used to do public relations work for NASCAR, was sentenced yesterday to 26 years in prison. He pled guilty to charges of using a computer to entice a child into sexual activity and coercing a minor into sexual activity for the purpose of making pornography.
"This, by far, involves far more torture and forms of activity the court has ever seen in a case of this nature," said U.S. District Court Judge William Osteen Sr.
I don't even want to know what he's talking about. Goodness.
Two NASCAR drivers, however, are OK with it. During the sentencing, Williams' lawyer read two letters in support of Williams from Nextel Cup drivers described as "household names in North Carolina."
Everyone needs a cause, I guess. Maybe these two drivers that the "Free Mumia" bandwagon was already too full. It's an odd choice for a cause to throw yourself behind ... if only these two unidentified drivers had been able to find a good PR person.
NASCAR Drivers Show Support for Convicted Child Molester [FanHouse]
Former NASCAR publicist sentenced in child sex case [Wilmington Star]