OK. We get it. Trevor Bayne is going to save NASCAR. Or something like that. On Sunday, the apple-cheeked 20-year-old sent the motor sports world into an onanistic reverie by becoming the youngest driver to win the Daytona 500. It was only Bayne's second start in the big leagues of the Sprint Cup. No matter. He's already being touted as a socket-wrench Messiah, able to transmute water to Castrol.
Even before his Daytona win, some members of the press were rhapsodizing about Bayne's potential and wholesome vigor, which is what happens when the subject of your story leads grown men in Bible study before he's purchased his first Norelco. After the race, the Bayne bandwagon hit top gear:
"Bayne just bubbles."
—Fox Sports
"The kid was like a sponge…"
—Fox Sports
"[A]ll those Bible studies at the race track paid off…"
—CNN
Some perspective as we pause to catch our breath: Bayne has no intention of competing in the Sprint Cup championship. He hasn't even spent a whole season in the sport's elite division. He has performed extremely well in the lower ranks. He won a staggering number of go-kart races. He can quote scripture at will but has no idea what to say (see video).
Bayne could be as good as everyone seems to want him to be, but it's awfully premature to be anointing him with oil. He has arrived at an opportune time for a business losing fans and casting about for new talent, and the notion that a single athlete or a lone event can save a sport makes for an easy storyline. Remember Smarty Jones? Or Freddy Adu? We're still waiting for that Pacquiao-Mayweather bout that's supposed to save boxing.
NASCAR may have overextended itself prior to an unanticipated recession, but whether it needs so much salvation is doubtful. The sport trails only the NFL in TV ratings. It can still draw huge crowds. The myth of the savior, however, doesn't just benefit the media. It meshes perfectly with what NASCAR, or any billion-dollar sport, is trying to do: manufacture new stars whose cult of personality creates new opportunities. (People keep asking poor, dull Jimmie Johnson if his success is bad for the sport; the fact that they keep asking that — on shows like Real Sports — is probably good for the sport.)
G/O Media may get a commission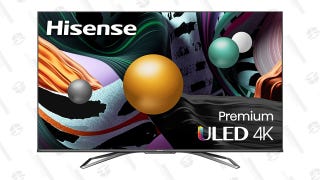 Save $350
Hisense ULED 65" Android 4K HDR Smart TV
These sports are big businesses. Their success or failure doesn't depend entirely on one person or one event. Even talents like Dale Earnhardt or Michael Jordan weren't solely responsible for the redemption, let alone the success, of their sports in their respective eras. And neither will Trevor Bayne be, if he actually does turn out to be the second coming.
Big plans for 'the new NASCAR' center on Trevor Bayne [Knoxville News Sentinel]
Trevor Bayne brings charisma, personality to Cup [Fox Sports]
Bayne's victory is just what we need [Fox Sports]
Daytona 500 winner's race for faith [CNN]
Daytona 500's Trevor Bayne started winning streak in East TN [WBIR]
Video by Emma Carmichael