It can be very, very easy to see the decisions surrounding a rainout as far simpler than they are. If it looks like it's going to rain all evening, but a team refuses to either move up first pitch or call the game—you fucking morons. If it is maybe going to rain later but definitely is not raining now, and a team calls it anyway—you fucking morons. If whoever the team sends out to pitch looks destined to get burned, and the team sends the wrong guy—you fucking morons. There is an impulse to view these decisions only through the lens of "is it raining?" which, obviously, is a pretty easy question. (Look outside, you fucking morons.) It's a good question! It's just not the only question, nor is it always the best question. There are boring logistical details of ballpark operations to consider, there are aspects of a pitcher's routine that are relatively inflexible, there is rarely any one decision that can be attributed to just one person.
So, yes, these things are complex. But the decision to first postpone and then wait until after the scheduled first-pitch time to cancel today's Nationals-Cubs game in Chicago is still less than satisfying—rather than, say, either being proactive and canceling it this morning when it was clear that the forecast held rain for the evening, or instead bumping up the first pitch to take advantage of a rain-free afternoon.
So maybe they could have played, but whatever, they didn't—which should actually be a pretty great thing for the Nationals, as it means they can start Stephen Strasburg in Game 4 tomorrow on regular rest. This series, to put it gently, has been fucking miserable for Washington. The chance to start one of their best pitchers in an elimination game, rather than going with Tanner Roark as was originally scheduled, should be huge. But they won't be taking advantage of it.
G/O Media may get a commission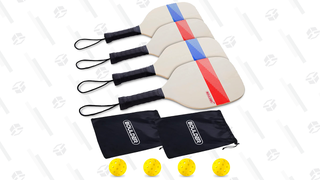 It's Pickleball
Pickleball Sets
Originally, manager Dusty Baker said that this was because Strasburg had thrown a bullpen session today in anticipation of starting in Game 5 on Thursday. (Something that probably could have been avoided if the game had been called earlier in the day.) Asking him to change course now and start on short notice tomorrow was out of the question. Also, Strasburg—and other members of the team—were sick due to, uh, mold in their drafty Chicago hotel.
But then reports surfaced that Baker's comments about Strasburg's bullpen session were incorrect, revealing that he'd actually thrown yesterday rather than today. Normally, that would indicate that Strasburg should be just fine to start tomorrow—but he won't, supposedly because he's sick. Which is a perfectly fine reason to be unable to pitch, if a maddening one for a team facing elimination! It just leaves plenty of questions about why that wasn't spelled out explicitly in the first place.
Maybe Baker misspoke (which happens), or maybe he genuinely didn't know the schedule for one of his best pitchers (which is troubling), or maybe he thought that telling the media incorrect information about said schedule would be easier than just admitting that Strasburg is sick (which is odd). Regardless—it's something of a mess, and one that's very unwanted for a team that has plenty of other things to worry about. Like, say, the fact that they've hit .121/.200/.231 in this series. There's that.