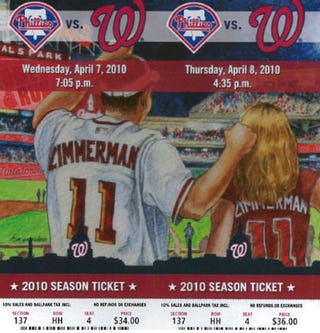 Next Friday's home game at Nationals Park is the hottest ticket in D.C. Unfortunately, it's still just a regular ol' June game against the Reds and not the big league debut of Stephen Strasburg. By the way, no rain checks!
MLB.com reported yesterday that the team will probably unveil Strasburg on Tuesday, June 8th against the Pirates. Or at least during that series. Too bad thousands of Nats fans already bought their tickets for the previous Friday night, believing that would be the day of their savior's arrival. Naturally, some of them now believe it was all part of a conspiracy to turn one big game into two convenient sellouts. Well, I never!
Our tipster writes:
Can you write something about how the Nat's management would eat a kitten if given the right amount of money? Fucking bastards. Maybe they didn't float the date, but they waited till a near sellout to speak up. What a bunch of greedy shitheads!
Yes, heaven forbid that anyone be forced to sit through two Nationals games in the same week. The team may indeed be trying to maximize profits, but that's what they do. They're a baseball team. When has your favorite club ever done anything for you out of the goodness of it heart? Plus, they could probably use that extra money to pay for the signing bonus of your precious hero.
The truth is that the team still hasn't announced any start date for Strasburg (and why correct the June 4th perception while it was still a possibility?) and at least one Nats blog was predicting June 8 over a week ago. Don't forget—the near sellout is still a Friday night game against a first-place team and the Nationals are still (sort of) in the NL East race. What's the harm in going twice? If you haven't noticed, you're favorite team is having a decent year.
If you get pissed at every sports team that tries to wring a little extra money out of its fans, you're going to spend a lot of time yelling at inanimate objects and scaring children. Just roll with it.
The June 4 near-sellout [DC Sports Bog]
Break Out Your Pitchforks, NatsTown! [The Nationals Enquirer]