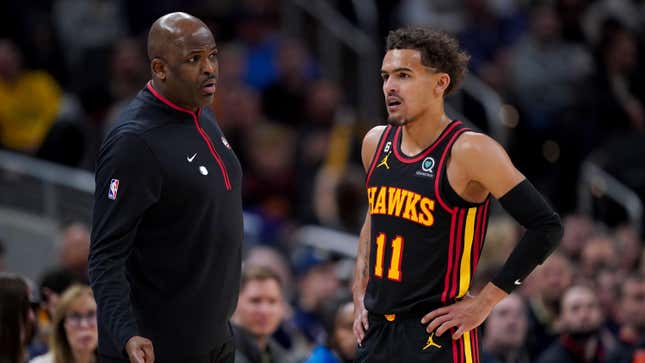 Nearly two years to the day the Atlanta Hawks fired Lloyd Pierce, his replacement Nate McMillan met the same fate. We knew his coaching position was terminal two months ago when an argument between McMillan and Young spilled out into the public sphere. And while Young's poor relationship with McMcMillan has him branded as a coach killer, it's too simplistic in this instance. Two years into the job, McMillan wasn't getting the job done and his Major Payne-adjacent leadership style isn't connecting with the player his franchise revolved around.

Grant Hill looks to repeat Team USA's 2004 "success"
The Hawks are 29-30 at the All-Star Break. This wasn't a failure to communicate, it's just easier to fire a middling coach. The Hawks have rebounded in the final third of the season for the past two years, but their tightwire walk became too much. For any prospective coaches though, Atlanta is an enticing job because of their kingslayer point guard.

McMillan fell into the job two years ago, but was too old school in a vanguard league. Nearly a decade ago, the Golden State Warriors' transition from Mark Jackson's floppy sets to Steve Kerr's read-and-react motion offense altered the NBA. Unlike Curry though, Young has been a dominant ball-pounding guard most of his adult life.

With him at the helm though, the Hawks are a marginal-to-below-average halfcourt offense and in the two years since McMillan was promoted, the Hawks have plummeted from being the eight-best offense per 100 possessions at the time of his hiring to second last season to their current nadir at 16th.

It seems antithetical to have a Trae Young-led team that plays at one of the fastest paces in the league rank in the bottom three in triples, and 29th in assist percentage, which tracks the rate of assisted field goals, but that's exactly what was going down.

It was Mike Brown in Sacramento, not Nate McMillan who uncovered the best usage for Kevin Huerter to thrive on the receiving end of dribble handoffs with Domantas Sabonis. The team still hasn't found a use for John Collins or a trade partner apparently, and most importantly, their franchise cornerstone has been mismanaged.

Young is either creating for others or he's a sightseer. The number one priority for Atlanta's next head coach is to get Young to do more than just graze on the perimeter when he surrenders the ball. McMillan talked a big game about instituting changes to how Young operated off the ball, but they rarely came to fruition.

Ideally, Curry is the model for how Young can generate offense away from the ball. This season though, Young barely diminished his rate of unassisted field goal attempts from 83 percent last season to 79 percent this one. The biggest difference though has come from behind the arc where his rate of unassisted triples fell 12 percentage points from 77 percent. Curry's split between unassisted field goals and assisted field goals is almost 50-50. Young's shot will never be as reliable as Curry's, but he shoots dramatically better on catch-and-shoot triples (37 percent) than on his difficult trademark pull-up shots from beyond the arc.

Former Utah Jazz head coach Quin Snyder is Atlanta's frontrunner according to Adrian Wojnarowski, but fit matters as much as function. Snyder's Jazz offenses regularly ranked last in mid-range attempts while taking 3-pointers at a league-leading rate. If his Jazz offenses are any preview, Clint Capela would operate as a Rudy Gobert-type paint protector and prolific screen setter.
The backup coach in Woj's report is allegedly Kenny Atkinson. Not only was Atkinson previously an assistant on Mike Budenholzer's staff for four years, but he's also spent the last three seasons picking Steve Kerr's brain from the Warriors' bench. Last summer, Atkinson reneged on accepting a four-year deal to coach the Charlotte Hornets position days after Michael Jordan got cheap about hiring new assistants. Atkinsons' Brooklyn offenses were predicated on a decentralized read-and-react system, that's antithetical to the heliocentric spread pick-and-roll offense, Young has commanded his entire career.
One of the reasons Atkinson is no longer the Nets coach anymore is because of Kyrie Irving and Kevin Durant's bad prescriptions. Young is smaller than Irving, possesses an equal amount of influence, and has been as cutthroat with coaches he's clashed with. In Brooklyn, Atkinson ran a modern offense and was an affable sideline CEO, which is in stark contrast to McMillan. Whomever the Hawks hire next will have to get Young to buy into their system, but there's pressure on Young to conform as well because he's running out of excuses.