A wrapup of Web reaction to LeBron James' insanity in the Cavs' Game 5 win last evening ...
• YAYSports: "You either saw that or you didn't."
• Kid Cleveland: "I know the Cavaliers still have one more victory before they finish off the Pistons, but in my lifetime this used to be the game the [insert your favorite Cleveland team here] would typically find a way to lose. Of course, when you have LeBron James as your x-factor, the odds of winning these contests were more than due to shift in Cleveland's favor...eventually. Thursday night against the Pistons The Chosen One simply wouldn't allow this one to slip away. Oh come all ye faithful, our Chosen One has risen!"
• Free Darko: "I stand before you more convinced than ever that the league can once again foster greatness. That the stars can come home to roost. That Kobe will yet find his redemption, McGrady will hit the three that sends the Rockets into round two, Melo and AI will execute a perfect two-mean weave while fixing their braids, and Amare will one day block his own dunk and get credit for both acts. What LeBron did tonight was unlock all that we have strived for, and remind me why I've been piling up all these syllables for almost three seasons now."
• Detroit Bad Boys: "Double-teaming him doesn't work, man-to-man doesn't work. There is no fair way to stop this man. After watching the play, my immediate reaction (after picking my jaw up off the floor holding back some tears) was that I wish someone had put him on the floor and made him earn it from the line. Not just a hard foul which might have resulted in a three-point play; no, I wanted somebody to hurt the guy. Yes, physically hurt him, go beyond the rules of the game and give him a bruise in two different places: on his face from where someone would shove the ball into his huge nose and on his ass from when he would fall out of orbit and back to earth. Needless to say, my head was in a bad place."
G/O Media may get a commission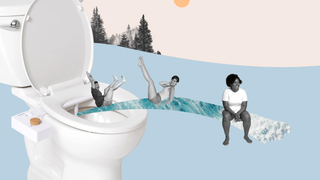 17% off
Tushy 3.0 Warm Water Spa Bidet Attachment
• The Daily Forecast: Is it possible that Joe Dumars can fire Flip and find a new coach in a day? Can that happen? The Pistons already know the systems, they can get through a game as far as the plays are concerned. But can't we find somebody, ANYBODY, else to sub people in and tell his fucking team to fucking double-team the guy that has scored 23 straight fucking points with 12 fucking seconds to play?"