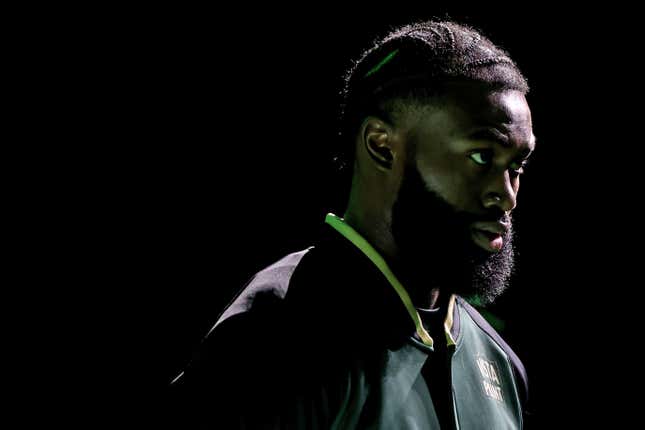 The NBA and NBPA have all but finalized a new CBA, and as far as CBAs go, it's pretty interesting. From what I've read, it seems very reactionary and definitely will have a lasting impact on the Association, its players, and its teams. There's a new games limit to be eligible for postseason awards, a brief sketch of an in-season tournament that could begin as soon as next season, another salary cap apron(?), an increase to how much players can receive from extensions, and no change to the one-and-done rule.
Does the NBA need to fix the All Star Game?
Before I give you a take on all that, let's look at the changes, or at least what's been leaked. And then I'll give a why this matters so I don't feel like I'm 100 percent an aggregating asshole.
You gotta play 65 games to win MVP, make All-NBA teams
This is the biggest one for me. It's directly tied to star players' load managing, and 65 games is a lot nowadays. It feels kind of like a direct shot at the guys lobbying to shorten the season by about 10 games. If players don't want to play 82, they have to at least hit 65. That's the bar, the minimum.
There are some caveats to that number, but those haven't been shared yet, so we don't know the workarounds. However, as currently constructed, contract maxes are tied to things making All-NBA teams and All-Star appearances. Shit could get really nefarious from an organizational standpoint if say a team like the Boston Celtics didn't want to give Jaylen Brown the max, so they sit him enough to not be eligible for All-NBA.
I know this because, for the past month-plus, Bill Simmons hasn't been able to get through a C's conversation without mentioning how much Brown stands to make if he's All-NBA third team. We'll see if that stipulation remains with the game minimum, but that's a huge motivator, especially with this next change.
Upper limit extensions increased from 120 percent to 140 percent
This sounds confusing — at least to me, but I was told there would be no math at this job — so let me use Brown, and another reporter's brain, to explain. According to ESPN's Bobby Marks, Brown is eligible for a four-year extension worth $165 million. Under the updated CBA, that number increases to $189 million. I have no clue if that accounts for the money Brown stands to make if he's All-NBA, but tune into the next Bill Simmons podcast if you want more details.
This is another mechanism for teams to retain their best guys because it's theoretically even more incentive against player movement. Newsflash for NBA franchises: Stars don't care how long the contract is. If they want out, they're going to try to force their way out. It also kind of screws front offices further because not every player eligible for a 140 percent extension is deserving of one, but his agent sure as shit is going to ask for it.
In-season tourney shaves off games for some, adds one for finalists
See if this makes sense. The tournament will feature eight teams selected by pool play baked into the regular season. They will then face off in December, with the final four held at a neutral site. Las Vegas is the leading candidate to host those games, and I don't know if Adrian Wojnarowski's autocorrect was on, but he capitalized Final Four, which, if that's what the NBA is branding it, is incredibly egregious and flirts with misleading the stockholders.
The tournament games will count toward the regular season standings, and I guess making it could boost your place if you have more wins than the teams who didn't play as many games. Again, math is not my strong point, so don't quote me on that. I can do simple addition though. There will be 22 teams who don't qualify and their seasons will be cut down to 80 games. The lucky eight participants will play 81 minimum and 83 maximum depending on how far they advance. The winning players and coaches will receive a cash prize and gift cards to various NBA sponsors. (Only one of those is true.)
One-and-dones still holding
I feel like an idiot because I should've just flat-out predicted that the age limit talks would be tabled. I say that because the NBA needs a reason for the G League to exist, and a plethora of players have invested in their own developmental leagues. As much as we like to assume most athlete investments are bad investments, the nature of their job probably led them to believe Overtime Elite and other ventures weren't going to be nullified by the next CBA.
As far as men's college basketball goes, I don't know how much it's even affected by one-and-dones anymore. It feels like recruits are picking the best options for them, and how could you blame them when one route offers a six-figure salary, and the other is essentially commission-based earnings off of how much you can market your brand?
Salary cap apron
I'm pretty sure I know who proposed this change, and it rhymes with sheep loaners. Teams who are dramatically over the salary cap — $17.5 million over to be exact — will no longer be afforded the taxpayer mid-level in free agency. That means the rich can't get richer via cheap-ish veterans like Golden State did with Donte DiVincenzo, or Milwaukee with Joe Ingles.
Think about it like this. Would it be fair to allow the uber-rich to profit off of tax breaks designed to help the every man? No, and even though I guaran-fucking-tee owners do that in their real-life tax filings, I find it comical (triggering?) that a bunch of them banged the drum of financial equality because they found someone richer than they are.
Oh, I'm sorry. You don't like it? Make more fucking money. This is America. You don't make money, you're a fucking douchebag. Now whatcha gonna do?