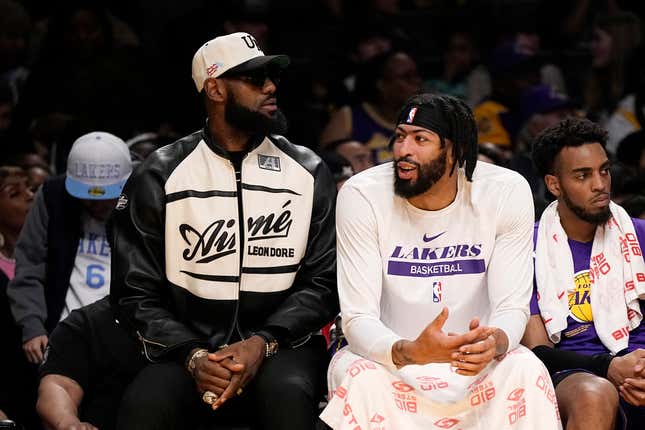 The people over at the National Basketball Players Association have the bubbles on ice with "Mission Accomplished" banners and balloons ordered. We're about a week and a half away from the end of the regular season, and the only star players in jeopardy of missing playoff games due to injury could return by, or during, round 1.

The big names on the mend are Paul George, Zion Williamson, and Julius Randle. George said there's no timetable for his sprained knee, but a report Tuesday said at least two to three weeks. It's not ideal if you're a Clippers fan, but that's life for Clippers fans. Williamson is set to be evaluated next week, and might even play in the Pelicans' regular-season finale. Randle just turned his ankle Wednesday night. Thankfully for the Knicks, they shouldn't need him in order to lock up the fifth seed, and will be able to let that injury heal until the postseason officially starts on April 15.
Unless I just jinxed it and half the All-NBA first team tears their ACLs over the next five games or so, get ready for a barrage of "load management won" content.
So, did load management win?
The only way I will admit that load management won is if these playoffs are the basketball version of pure, uncut heroin being fed to me through an IV drip. I'm serious. This regular season has been remarkably abysmal for a year in which six players are averaging 30 points per game or more.
This is the most polarizing MVP race/rivalry the NBA has seen in a long time, and Joel Embiid sat out his last heavyweight bout with Nikola Jokić, one that could've won him the award. We wrote about it. I didn't because I was off, but I don't know how literate my post would've been because it's hard to type when your keyboard is in pieces.
It's difficult to put your finger on what's been so dismaying because there's a lot of it. From stars sitting out national TV broadcasts, to an outsized number of blowouts, to coaches essentially forfeiting games with G League lineups, you have to really love the NBA to enjoy the product.
I do for the most part because I have League Pass and get to be selective about what I watch. However, I'm not everybody, and it seems as if I'm in the minority.
I'm not here to diminish anything Caitlin Clark has done or women's basketball. I wouldn't be shocked if the World Baseball Classic ends up drawing better ratings than ESPN's best MLB broadcast of 2023. If a sporting event is compelling enough, fans will tune in. The women's tourney has been and the WBC certainly was, as well.
The NBA simply has not had a consistently compelling product this year.
Scoring sells for only so long
Rule changes opened up the pace of play and half the league is averaging 14 or more fast break points a night. In years past, we were lucky to get 10 teams with that kind of production in the open court. Still, it doesn't move the needle.
The team average scoring output is 114.6 points, which will likely be the most prolific season since 1969-70 when squads were putting up almost 117 points per game. While we've had some great games, there have seemingly been 10 times as many blowouts. I can't count the number of times I've seen "146-121" come across the ticker, and typically the winning side was up by 20 for at least a half if not more.
I can't tell if the insane offensive production has numbed fans to all the individual greatness, or if the fans are convinced that the individual greatness is a product of little to no defense, but 40- 50-, 60-, 70-point performances haven't resonated as much as you'd think. I guess Donovan Mitchell and Damian Lillard dropping 71 in a game is very believable if P.J. Washington can go for 43.
That brings me back to the upcoming postseason. The 2022 playoffs were filled with lopsided contests, and if we get that again, despite a largely healthy roster of stars, I have no clue where the NBA goes from here aside from shortening the schedule.
The league has never been deeper, the level of shotmaking is incredible, and yet it feels like the temperature of the product is lukewarm. Stars have been in a fire extinguisher case all season, and we've been told that they're only getting broken out in case of an emergency.
Welp, there's nothing more pressing than the playoffs, so this load management shit better fucking pay off.