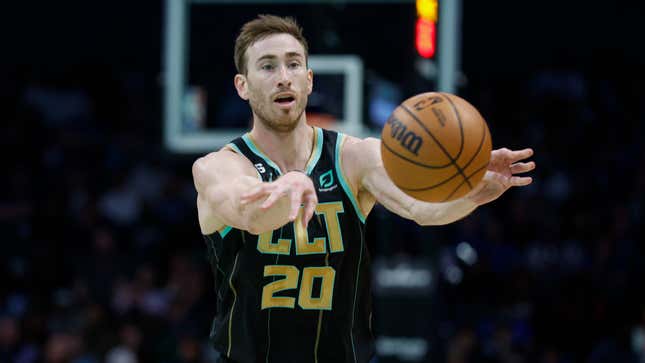 The Sacramento Kings Beam season isn't over yet, but success is relative. The Kings finally ended the NBA's longest playoff drought. All it took was De'Aaron Fox straightening out his jumper, an offseason for Domantas Sabonis to get fully integrated into the offense, trading for Kevin Huerter and Mike Brown putting everyone in a position to exploit their strengths
However, the lower rungs of the NBA are a game of Tetris. Sacramento respawning as a playoff team means someone new has to fill in that gap as the NBA's perennial stepping stool. They say you can see the beam from space. You can also peak at the Queen City's porcelain throne from inside downtown Charlotte's Spectrum Center. Queue up the Charlotte Hornets who are not only in the midst of a seven-season playoff drought, but own the dubious distinction of being one of three franchises that haven't won a playoff series in 18 years. The Hornets have sludged through the muck so long that they quelled owner Michael Jordan's sociopathic desire to win at all costs – as long as it keeps their payroll beneath the NBA luxury tax.

MJ — GOAT player, SHIT owner
After purchasing the then-Bobcats in 2010, called becoming a majority owner, "the culmination" of his post-playing career and was, "especially pleased to have the opportunity to build a winning team" in his home state. During his reign as owner, the Hornets and Pelicans are the only teams to never spend above the luxury tax threshold.

The last time Charlotte advanced to the postseason, Golden State pierced the heavens during a 73-win season, and Tim Duncan was composing his playoff coda. Charlotte was dismissed in seven games after Purple Shirt Guy pissed off Dwyane Wade.

The closest the Hornets have come since 2016 was last spring when LaMelo Ball and Miles Bridges shepherded Charlotte into the play-in tournament as the Eastern Conference's 10th and final seed. Ball suffered a bevy of foot and ankle injuries throughout the year before being shut down for the season on Feb. 23. Kelly Oubre missed 24 games between Jan. 29 and Feb. 24 while recovering from a torn ligament in his left hand.

Bridges went unsigned after allegedly assaulting his wife and pleading no contest to a felony count of injuring a child's parent in exchange for three years of probation. However, he remains an unsigned free agent and while his return could benefit Charlotte's 2024 projections, the draft lottery is where they'll find messianic prospects.

The most prominent free agent Jordan has acquired was the injury-riddled Gordon Hayward (pictured above). Nestled in a small market with a cheap owner unwilling to shell out for a winner, their mixed draft record has been their primary means of roster-building.

2022: Mark Williams (Jalen Duren traded for a 2023 first)
Williams' offensive usage is direct. He sets screens and utilizes his 7-foot-7 wingspan to clean the glass or intimidate slashers who trespass on his property in the paint. Meanwhile, Duren was drafted with the first-round pick they acquired in the Graham trade, then swapped that pick for Denver's late first-rounder in 2023 and a bushel of second-round picks.
2021: James Bouknight
Even with Ball and Oubre out for large chunks of the season, former UConn guard James Bouknight has still been glued to the bench and will likely be traded in the offseason.
2020: LaMelo Ball
The youngest Ball brother was a home run pick that could have been James Wiseman if the Warriors weren't peer pressured into conforming and drafting a conventional big. His passing evokes Picasso, but he struggles finishing once he probes into the restricted area. If he could adopt his brother Lonzo's defensive gusto
2019: PJ Washington
Early on in his career, he earned as a wing-stopper, screener, reliable corner shooter, and potential anchor for a switching defense. His rangy 6-foot-7 frame and 7-foot-3 wingspan upgraded his defensive versatility and floor spacing ability to carve out a role as an ideal stretch-5. Unfortunately, the PJ Washington portfolio peaked in value during his rookie year. He's still carved out an existence as a versatile contributor.
2018: Miles Bridges/Devonte' Graham (in exchange for Shai Gilgeous-Alexander)
On draft day, they swapped picks with the Clippers after selecting Shai Gilgeous-Alexander 11th overall. The Hornets then hopped back to the 12th pick in exchange for SGA, drafting Bridges. With one of the two second-rounders they nabbed in the SGA swap, Charlotte drafted Graham, then flipped him in August 2021 for a first.
2017: Malik Monk
One of the most profound failures of the Hornets' drought years was Monk, whose scoring binges were mitigated by terrible shot selection and ugly shooting splits from every zone on the floor. He was too shaky as a shooter to thrive on the perimeter and worst of all he was picked over another combo guard in Donovan Mitchell. The NBA made it easier for Charlotte to move on from Monk when the league suspended him for violating its anti-drug policy in 2020.
2016: Malachi Richardson (traded draft night)
Richardson was taken 22nd overall but later traded for a well past his prime Marco Belinelli. Belinelli only lasted 74 games.
---
Somehow, this is a team with a promising franchise talisman in the 21-year-old Ball that has been drafted competently. However, three seasons into his rookie deal, a combination of injuries, bad kismet, and malfeasance has thrown a wrench into Charlotte's developmental process. Ball's playmaking has liberated the offense, but the defensive equation has been more difficult to solve. Although they've been locked in as the league's most stifling defense since the All-Star break, Charlotte ended the two seasons prior among the league's worst.

To boot, the organization will likely be undergoing an organizational realignment if the signals that Jordan is selling come to fruition. Until they solve their playoff conundrum, Charlotte rules the air down there.

---
Follow DJ Dunson on Twitter: @cerebralsportex