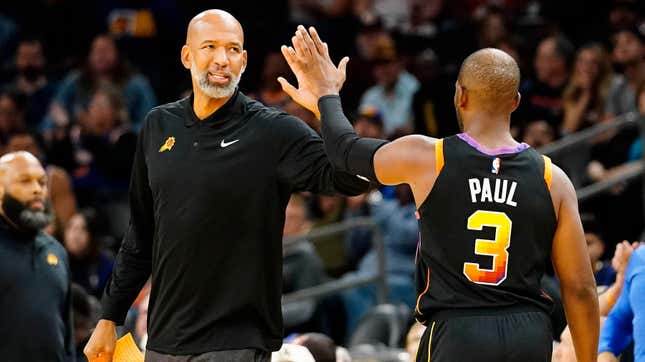 There are a few talented teams in the NBA who've been waiting to pop like an unpollinated flower, and the Detroit Pistons are hoping Monty Williams is one such catalyst. He was able to help turn around the Phoenix Suns, with the assistance of Chris Paul and the blossoming of Devin Booker, and mold them into an NBA Finals team. The key to most of these rebuilds — beyond a generational talent — is getting young talent to buy into a culture of winning, and embrace accountability.
Can Chris Paul still help a contender? | Agree to Disagree
Cade Cunningham and Jaden Ivey are a solid foundation talent-wise, but the roster doesn't feature an on-court presence who can show them how to maximize their talent, when to run a set, when to take over, and other tricks of the backcourt. If only there was someone who could help, who's done this before, and who — unfortunately for him — is available.
Let's be honest, at this point in his career, the only way Paul is ever going to win a ring as a player is by chasing it, and the window for him to do that as a productive member of a team feels like it's shut. The Suns were arguably better without their starting point guard in the playoffs, and he wasn't only a liability from deep (32 percent this postseason), but at times also was hesitant to take wide-open shots.
However, he can still up the standards of everyone on a squad, and run an NBA offense. In addition to Phoenix, look at what he did during his lone season in Oklahoma City. They ran a three-guard lineup, made the playoffs, which was the last time the Thunder officially did that, and his tutelage helped Shai Gilgeous-Alexander discover his path to stardom in the league.
Is it possible? Would CP3 even agree to go to Detroit?
First off, the Point God doesn't have a say in the matter. The biggest impediment from the Suns shipping out Paul is his contract, and their salary cap situation. The Kevin Durant trade and the new CBA essentially sapped all of the team's flexibility, because new owner Mat Ishbia didn't look before he jumped, and they're stuck in the inevitable role of buyers with little leverage.
I tried many different iterations in the trade machine to get Paul in a Pistons uniform, and none went through. The denial messages read like an error you get when your computer crashes, so maybe my reading comprehension doesn't extend to front office jargon, or I needed a third team. I don't know.
That said, it's a rare hypothetical trade that would benefit every side (other than, I guess, Paul). Obviously, it's easy for me to tell CP3 to swallow his pride and accept the last phase of his playing days. Yet, if he had an eye on life after his on-court career, something akin to a player-coach role would be a nice way to transition to the bench.
It would be disingenuous to act like NBA teams won't be knocking down Paul's door to hire him as a head coach when that day comes. So, while he doesn't really need to button up a resume, why not get a jumpstart in the pursuit of an NBA title as a coach? He could help more than Cunningham and Ivey, too, and front offices will give him carte blanche if he unlocks James Wiseman's upside. (Or he might just end up yelling at him like everyone on the Suns does to Deandre Ayton.)
Apologies if this wasn't more about Williams, who has a Coach of the Year award on his mantle, and oversaw the undefeated, CP3-less run Phoenix made in the Bubble that preceded their official arrival as contenders. I love the hire because the Pistons badly needed a new voice in the locker room, and Monty is a consummate professional. My concern is it's going to take much more than one worker bee to get this bouquet to flower.