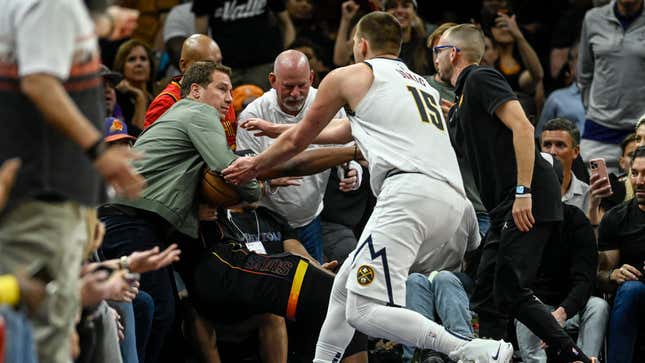 How do you know that Phoenix Suns owner Mat Ishbia made being a go-hard his entire lifestyle?

The NBA probably thought it was done with owners who think they're players when they finally calmed Mark Cuban down all those years ago, but Mat Ishbia will challenge that belief. We already know this guy is a weirdo from how much he worships Tom Izzo and thinks the lessons he learned while getting run over in Spartans' practice by actual talent should rule the world. He certainly uses bench pep talks and strategy sessions when he's unfairly making all his employees come back into the office so he can feel like he's more in charge.
Flopping Suns owner Mat Ishbia should've been ejected after Nikola Jokic incident | Andy Reacts
Flopping Suns owner Mat Ishbia should've been ejected after Nikola Jokic incident | Andy Reacts
But hey, he stole a point for his team, which is more than just about every owner can claim. And there's no doubt he'll tell every employee he orders to listen that it demonstrates the kind of passion and hustle only he has, that he learned by essentially being the basketball version of a kiss-ass.
Just wait until he airs out a player in the press for not showing the hustle he does at courtside. You know it's coming.
The Maple Leafs won't have far to look when it comes to an end
Careful what you wish for:
There's certainly a lot of glee to be harvested in laughing at Leafs fans' arrogance and ignorance, especially when their team's play in recent years dictates that no fanbase should fuck up more (both the Leafs and Knicks getting clowned in Round 2 by eight seeds so far has a wonderful symmetry).
The Leafs lost in overtime in Game 3 to fall into the deepest darkest hole before the demise, and it's not hard to see why they're ass over tea kettle when you watch the winning goal:
Neither Jake McCabe nor TJ Brodie get anywhere near Sam Reinhart or Anton Lundell during the winner, allowing Reinhart to have the puck for like ten minutes to do as he pleases before starting the final play. And this has been the story all series, that the Leafs' defense is too slow, too brick-handed, and too dumb to deal with any team that can throw a gaggle of quick and aggressive forwards at them. Five of the seven D-men they dressed last night would have been the fat guy on the original NES "Ice Hockey" game.
That won't stop the media from coming after their favorite targets, because in the T.O. you can never go broke calling out those who make the most money and clearly just don't want it enough:
Matthews and Marner were not great in Game 3, but they were dominant in Game 2 and fine in Game 1. Sometimes the puck just doesn't go in. But what they're facing, and what the Toronto front office refuses to face much less their fans, is that all their forwards have to do everything. They can't push the play when they have to consistently bail out the drowning manatees that form the defense and then get the whole 200 feet themselves. They have to run their own breakouts, and then create all the offense when no one other than Morgan Rielly or Erik Gustaffson can do more than just stay stationary at each point.
And Toronto chose this. They traded for Mark Giordano last year and Jake McCabe and Luke Schenn this year. They're getting snowed under again because they have the most mismatched set of forwards and defense in the league. If you don't think so, take another look at McCabe and Brodie pawing at Reinhart like sleepy Great Danes.
Tennis doesn't need ball models
Weird story out of tennis, where the just concluded Madrid Open was using "ball models" for men's matches on center court instead of ball kids. This apparently started in 2004 when tournament organizer Ion Tiriac–you may remember him from such episodes as being the mustachioed nutjob that managed Boris Becker back in the day–came up with the idea.
The backlash to this practice got loud enough that during the men's final on Sunday the outfits were curtailed, though it was still an all-women's crew of ball…people. One would think tennis, which still has gender-equality issues when it comes to prize money for both the ATP and WTA tours, wouldn't let something this archaic get into the conversation in 2023. But things move slowly in tennis.
---
Follow Sam on Twitter @Felsgate.