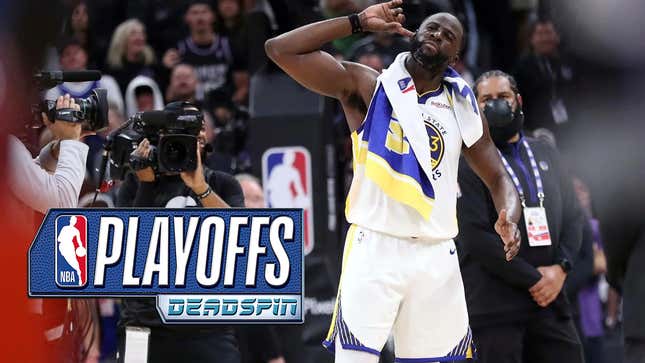 We've known this isn't a vintage Golden State Warriors team. They kept turning into the Dallas Mavericks/wildebeests whenever on the road, they had to reshuffle the roster halfway through the season, their defense has consistently been of Cottonelle strength. It wasn't so much that they were assuring us for six months that they could just turn it on, so much as our own beliefs were telling us that. They've been telling us they need a nap, some of us just haven't been listening. These were the four-time champs after all, surely they were just pacing themselves more than any NBA champion has ever paced themselves…right?
Is the Warriors dynasty over? | Agree to Disagree
Yeah, not so much. Sometimes things are exactly as they look. Eventually every aging champ, no matter how great, gets slayed by the younger, faster, hungrier team. We all get replaced. And you know when the Warriors lose the game where Draymond Green is trying to pick a fight with 18,000 at once, they might not have levers left to pull.
You kind of know that Draymond knows he fucked up when he goes full Jimmy Hart around the arena, couching it (probably) in the idea that he's trying to fire his teammates up. That or he's genuinely bonkers (maybe both. Likely both). Green knew he wasn't getting out of stomping on Domantas Sabonis, though Sabonis put on a Neymar-level performance to sell it. Which is a cue for Draymond to wave on the whole crowd at once, and then pick out a few specifically to jaw at or with simply because he can't help himself. It's creative to try and annoy everyone to get yourself out of trouble, you have to admit.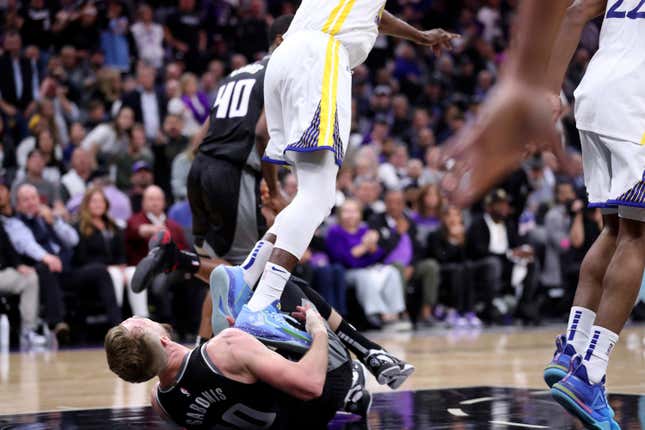 It's gotta be one of the more frustrating things for his teammates, watching him act like he planned all this out when all he's really doing is trying to cover his ass and distract everyone from the fact that he got ejected with his team trailing in the game and in the series. Green gets away with it because he's that important to the Warriors and he's got the hardware to prove it. Which is usually enough to guilt the Warriors into showing something in his absence. But no, not this time. They don't have the gas. The Kings still got whatever they wanted on the offensive end and the Warriors couldn't open themselves up for much more than desperate Curry or Thompson heaves from three. It didn't take.

If the Dubs whiffed on the Draymond goes goofy game, there are no more rabbits in the hat. The Kings have called out all the tricks, spotted all the mirrors and trap doors, called out all the sleight of hand. He goes from team leader to just unstable whacko now. Oh sure, they'll probably pull out Game 3 at home, maybe even Game 4. Maybe they're counting on the Kings to start to quiver when things start breaking against them. It's something of a plan.
But what do the Warriors do when more things go against them? Seems like the holster is empty.
Hockey remains the dumbest sport
Not dumb as far as what is allowed in the playoffs. Well, not only that. But what decides these games, and what we have to build the story off of, remains pretty random and stupid, and yet that's the nature of the sport.
Take Game 1 between Minnesota and Dallas. Dallas spent most of the game kicking the Wild up and down the ice, especially in overtime. They outshot them 26-12 in the two overtime periods. And yet they couldn't find a way past Filip Gustavsson. Which, hey, that happens. There comes a time when you've got to just score.
But in the second OT, they didn't score not because of some great save, but because Gustavsson — by random act of the hockey gods — had a shot that he never saw clank off the shaft of his stick. It was ticketed for the top corner, but instead pinged off harmlessly to the corner simply due to the divine, if you're from Minnesota.
And then a couple minutes later Colin Miller has a pass blocked by Sam Steel, with Steel not even looking at the puck more than just flinging his stick at it, and it just happens to bounce right in front of the net where Ryan Hartman was because he couldn't really move after injuring his leg earlier in the game. Suddenly he was all alone three feet from the net:
And that's all it takes. Minnesota has a 1-0 lead, and it all boiled down to fractions of a couple inches.
The game also had the other kind of hockey stupid:
This hit is late. This hit is aimed at Joe Pavelski's head. Matthew Dumba leaves his feet to make it. And of course, it was deemed just a two-minute penalty, because the refs in hockey somehow are able to remain upright without a spine. They actually reviewed this and downgraded it from a major penalty to a minor. The Stars lost Pavelski for the rest of the game and likely the series, and this is what they got in return.
At least the NHL playoffs don't wait around long to show you everything they are, on both sides of the spectrum.