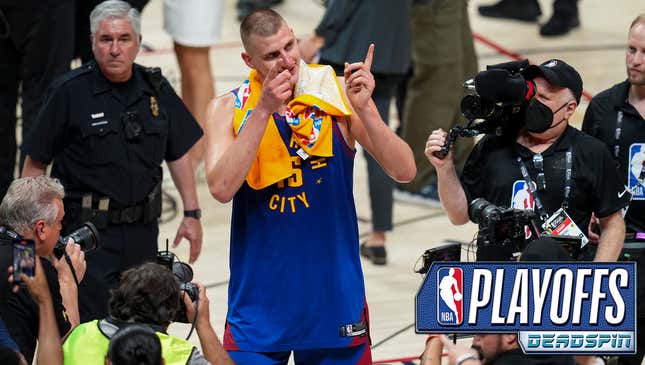 I wouldn't pretend to be a basketball expert. My colleague Stephen will be around later to do that stuff. I do know there are myriad ways of designing an offense and defense and how to guard pick-and-rolls and rotations and a bunch of other things that coaches play with throughout a playoff series. They hunt matchups, switch coverages, run counters off their counters.

The best ERA+ belongs to who? | Stats that will blow your mind
Or if you're the Denver Nuggets, you just have guys that are taller than the other guys at every position.
It seemed pretty simple last night, as any fan could tune in and after a few seconds say to themselves, "Wait, I remember this from grade school." It was a little more complicated, but not much. The first quarter saw Aaron Gordon run whatever schmuck was guarding him right into the post and sometimes through the stanchion. Then it was Nikola Jokic, basically moonwalking into yet another triple-double, simply looking over whatever defense the Heat wanted to throw at him and finding the open man either under the hoop or at the three-point line. Or maybe it was Jamal Murray shooting over whoever.
On the other end, unless Miami could heave in a streak of three-pointers, it looked a lot like them getting anywhere near the line and "NOPE." Passes out beyond the arc to start all over again or risk getting their shot slapped right back down their esophagus. We know the Heat survive on grinding through a game but this was something else. This was a little brother getting typewriter'd by big brother and landing only a few blows from way out of reach. Every mini-Heat run would have to be classified as "adorable" before the Nuggets would yawn, give the ball to Jokic at the nail, and then either watch him mosey to the rim or find yet another open teammate that we couldn't even see on TV until he got the ball.
Sure, the Heat were probably still working out the stiffness in the legs from their seven games against the Celtics. The altitude didn't help. The Nuggets were rested. Except with two days off before Game 2, the Nuggets aren't going to be any less rested. And the altitude will still be there. And they'll still be bigger in every spot than Miami. And not just bigger, but just as athletic if not more so. They'll continue to weave their gorgeous patterns and continue to just be open whenever Jokic decides they are. And when that doesn't work they'll just bully the Heat in the paint. And then they can just shoot over them. And dare Miami to keep hitting threes at their abnormal pace, because they're not going to get much inside. Especially if Jimmy Butler is going to take 14 shots, and eschew doing much of anything as he really has the past three games.
You knew it when you were 8. You knew it when you were 17. You know it now. In basketball, sometimes the bigger guy just wins.
New NWSL team Bay FC unveils crest, colors
The new NWSL team that will join the league next year, now known as Bay FC, unveiled their crest and colors yesterday. Gotta say this will play quite nicely:
MLB the good guy in Diamond Sports ordeal?
To keep coming back to a small miracle, MLB continues to look like the well-thought-out good guy now that the bankruptcy court has ruled that Diamond Sports has to pay the money they signed up to pay when they acquired the TV rights to 14 baseball teams, and this will eventually lead to MLB landing the broadcasting when Diamond fails to do so.
It's hard to make Rob Manfred and his cohorts look like the cogent and decent ones, but Sinclair has managed it, and if nothing else Sinclair will be getting out of the baseball business with their tail between their legs. Whatever that means for a billion-dollar corporation.
Still waiting for MLB to fuck this up though.
Max Scherzer hates the pitch clock
It would be an awfully chalky pick to opt for Max Scherzer to be the only one constantly complaining about the pitch clock, but it also would assuredly cash:
The funny thing about this is Scherzer asking why MLB is making its umps make a big deal about one warm-up pitch, when we could all ask why he's making such a big deal about one warm-up pitch. Baseball players have always been psychotic about their routines, and yet most of them have adjusted with no fuss to this season's rules. But Scherzer is going to have his say, because that's who he is. Must be so hard to be that red-assed all the time. Think it would be hard to sit down for four consecutive minutes.
---
Follow Sam on Twitter @Felsgate.