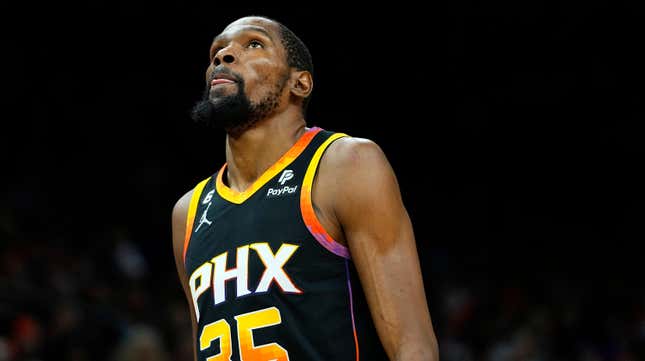 Whenever someone talks about Kevin Durant, they bring up what he is capable of doing a lot more than they bring up what he actually does. I could retire if I had a dollar for every time Stephen A. Smith has said "6-foot-11, can pull up from 30." But he doesn't actually get the job done very often.

People constantly overstate how good Durant is both in terms of today's NBA and their rankings of the best players of all time because he's a great scorer and shooter… that is also tall.

As you're probably well aware, both of his championships came after joining a team that went 73-9, eliminated his own team from the playoffs, and was one year removed from winning a championship. Since leaving the Warriors, Durant has been teammates with Kyrie Irving, James Harden, Chris Paul, and Devin Booker. No other player has come close to having that amount of talented teammates in the past three years.

KD lacks a signature playoff moment
Apart from that one long-distance dagger against the Cavs in the finals, he doesn't have any signature playoff moments that come to mind. Scoring is obviously the most important skill an NBA player can have with the way the rules favor offense, but that ability causes people to overlook his drawbacks. He shows flashes of good defense at times but by and large, isn't great. He's not a particularly good rebounder for a 7-footer. He doesn't create that many shots for others. And a lot of times he's pretty inefficient.
To be fair, players that are expected to take a lot of shots can't really sustain efficient shooting numbers for long. And you're not really expected to be a great defender when you're also the team's first option on offense.

That being said, it was Durant's offense that failed him in their series loss against the Nuggets. It took him 23.2 shots per game to score 29.5 points per game.

Revisionist history
There's a crazy revisionist history about him. When he was traded to the Suns earlier this season, it was unilaterally declared a super team and the favorite to win the title. Now some are saying that they need to build around Durant with more "defense and role players."
He joined a team with two other all-stars and a recent No. 1 pick. When is he finally going to get some help? Durant made six three-pointers in the entire series. He needs to start helping himself.

Since leaving the Warriors, he's been on two super teams that have failed to even reach the conference finals, let alone win a championship. He was not the best player on those Warriors championship teams even if he won finals MVP both times.

About a year ago, Draymond Green said that Steph Curry was double-teamed seven times as much as Durant during the 2017 and 2018 finals. The ever-defensive Durant said this was "100 percent false." I mean, I guess he's technically right. It wasn't seven times as much, but Curry was doubled more. Even then head coach of the Cavaliers has since said that was his plan.
Curry has won a championship before Durant arrived in Golden State and after he left, but some people still insist that he needed Durant. And although the Warriors are currently trailing the Lakers 3-2 in their series, there's a chance they could come back and advance further in the playoffs than the Suns.

Yes, Kevin Durant is a great player, but not as great as many people say because they're grading him on a curve. The argument as to why Durant is better than Curry pretty much begins and ends with "he's taller." The fact that he COULD shoot over anybody and carry a team, doesn't mean he actually does it. No other superstar gets that level of benefit of the doubt. At no point in time was the taller Khris Middleton the best player in the world.