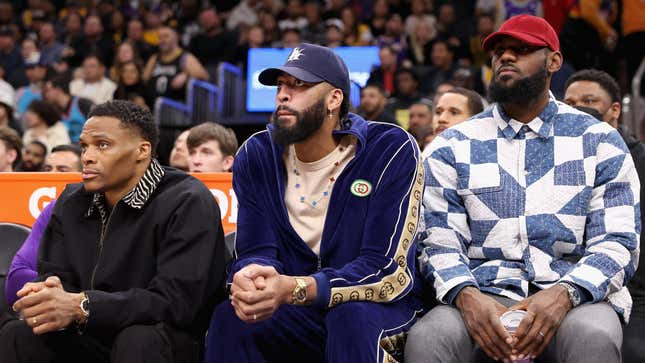 At least the NBA, unlike some of its sporting league counterparts, keeps its CBA negotiations mostly under wraps. They're going on right now, as both owners and players have the option of opting out of the current agreement by March 31, which would end the deal on June 30. One of the things to leak out of the negotiations is that the owners would like to find a way to get players to play in the regular season more.

Does the NBA need to fix the All Star Game?
You've heard the term "load management," probably joked about it because it's just sitting there, and are acutely aware of how much it has become the norm. The league's biggest stars just take nights off here and there, trying to keep themselves as fresh as possible through the seemingly endless slog that the six-month regular season is. The league has tried to combat this a little by starting the season earlier and stretching out the time between games more often, but it hasn't worked.
But this is what basketball has demanded. Basketball asks every fan to judge players by what they do in the playoffs. No sport defines a single player's career more by the number of rings they have than the NBA. Legacies only consist of that, it feels sometimes. Maybe it started when Michael Jordan took six years to win his first title, and before he did he had to carry some pretty heavy weight about whether he was capable or not. You may not remember it now, but before 1991 there were a lot out there who thought he was someone who "couldn't get it done."
And pretty much every star after him has been judged this way. LeBron entered the league at 18 and it wasn't more than a few minutes before everyone was wondering when he'd win his first title. Kobe wasn't complete until he won without Shaq. Giannis was the paper MVP until the Bucks won a title. This is just the top of the list. It's how stars are written about, surveyed, and eventually paid and valued by their teams.
G/O Media may get a commission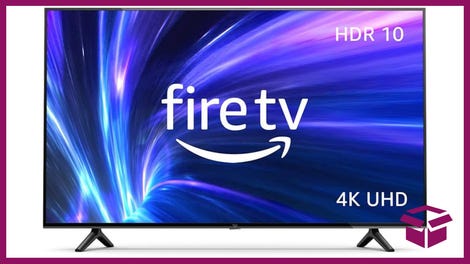 42% Off
Amazon Fire TV 50" 4K Smart TV
And this is what fans want. The debates that rage online or in a bar or over the dinner table aren't about February nights in Oklahoma City. As the news cycle has grown and become 24 hours of nonsense and noise, this unbalanced weight on the playoffs has only gotten more out of hand. This is how the NBA has allowed itself to be covered and viewed.
It hasn't come for hockey yet, but it will. There's already been talk about what the Bruins might do in the last weeks of the season, with their spot atop the Atlantic Division locked up. It's not as easy in hockey, as you can't just sink down to an eight-man rotation as easily. It's anathema to the hockey attitude, but hockey focuses even more on its playoffs than basketball does. Look at Leafs fans to know. Hockey itself has usually derided its regular season as nothing more than a warm-up, though that has changed in recent years as good teams have missed the playoffs. But hockey's obtuse and ridiculous standings system makes the regular season seem less than serious as well.
There isn't much hockey or basketball can do. They can't change how the sport is covered now, and as our society's focus sinks further into just deciding who wins and who loses with no context, the hot lights will remain on the playoffs. Neither sport seems inclined to shorten the regular season to make every game count that much more, though that's one route. Certainly, neither league will shorten its playoff field, though if what they're worried about now is meaningless games without stars, what's the difference if those are replaced with meaningless games for teams out of it? In fact, some in hockey want to adopt the play-in method that the NBA has.
Basketball and hockey have told us for decades now that only the spring matters, only the spring shows us what teams and players truly are. So how can they complain when players and teams act like it?
Just had to have the Mailman, huh?
As we head into NBA All-Star weekend, we know that the Utah Jazz might be a touch short on legends and history to celebrate as they host the event. Still, this is…awkward…
Zooming out…
[Editor's note: Gloria Bell was 13 when she gave birth to a son while Malone was a sophomore at Lousiana Tech. Bell said her family didn't pursue charges because Malone was a neighborhood kid. The age of consent in Louisiana is 17. According to court documents, the child, Demetrius — later Demetress — is the result of a two-month relationship with Malone in 1983. According to this article, Malone refused all claims and denied the relationship. He didn't meet his son — a future NFL player — until he 17.]
While the Jazz and the NBA are surely not alone in hoping they can simply Pixel out the past, it becomes more and more known every day that passes. The Jazzy don't have to renounce Malone — though that would be nice — but celebrating him in a fashion is distasteful, to say the least. And it will only make people have to answer questions they either don't want to or weren't prepared for, which will only make the situation worse. Yeah, John Stockton has certainly talked his way out of this sort of thing, and I don't know who's left. But this ain't it.
It's so much fun being a White Sox fan
In more news about a team welcoming in a true douchebag to their ranks…
The Southside faithful are going to want this season canceled before it even begins.