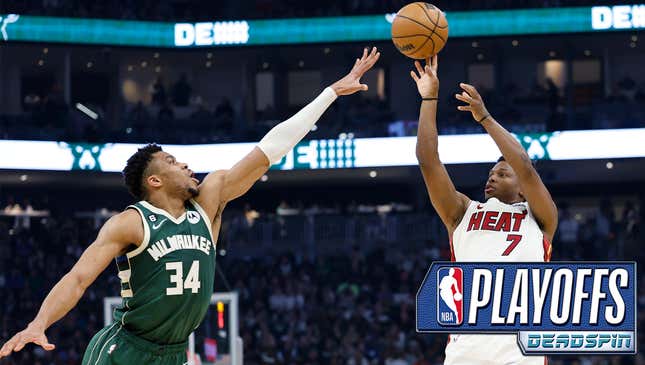 I won't pretend to be any kind of basketball expert, and my brethren here will spend the day breaking down the Milwaukee Bucks coughing up a curd-ridden hairball in the first round to the Miami Heat. But I know a deer caught in headlights look when I see one, and Bucks coach Mike Budenholzer spent all of Game 5 with that look on his face. That's when he didn't have both hands wrapped around his throat.
Is Vince McMahon returning to WWE?
It's de rigueur these days to let your players play as the clock winds down, and maybe catch a defense a little scrambled. But not when your team has spent the last minutes of regulation in two games — and overtime in this one — throwing the ball around like it was on a detonator, and your star player is terrified of having it because he can't throw it in Lake Michigan from the free throw line. The Bucks blew two huge leads in the fourth quarter of the last two games to a team they're supposed to have completely outgunned. This is not a team that can be trusted to run on autopilot with the shot clock turned off.
No wonder their season ended with the ball in the hands of a dimwit like Grayson Allen as he Euro-stepped to nowhere, which also happens to be my favorite Ozzy song.
The Bucks can point to the banner in the rafters as proof of what they can be, but it's a real wonder how they ever got it. Budenholzer watched along with the rest of us as Bam Adebayo was allowed to direct the offense whatever way he wanted as Brook Lopez sagged somewhere near Fon Du Lac. It happened over and over with no adjustment.
When the Bucks got the ball there didn't appear to be any plan or anything they could call on to get a good shot. They just hoped, the play-calling consisted of, "I don't fucking want it." They were waiting for someone else to conjure something. They panicked. The wilted. They choked.
Having gone the route just two years ago, the Bucks should still be chock full of the confidence and swagger that comes with knowing you'd done it before and you know what it takes. The Bucks spent the past two games choking on their own boogers. They were frantic, unorganized, and weak, and their coach stood and watched. All summer we'll hear jokes about the three timeouts he held onto that he can marvel at over the summer. He may get to do so while updating his résumé.
WWE hit with another lawsuit that it can brush off
You knew about Vince McMahon being a misogynist and an admitted physical danger to women around him in the office — he's previously been twice accused of sexual assault, and has denied all allegations of wrongdoing — but did you know he's likely a raging racist too? Well yes, of course you knew that. You're not new here. But a new lawsuit fills in the blanks about the degree of that.
Britney Abrahams, who wrote for the company at the beginning of the decade, is suing the company, Vince McMahon, and other execs for racial discrimination, claiming that she was fired because she spoke up against some pretty horrific storylines that were proposed for various wrestlers. The company's claim is that she was fired for keeping a Wrestlemania-adorned folding chair, the kind in the first few rows of the show. Abrahams says plenty of other employees kept a chair and that was merely used as a smokescreen to cover for firing her over her objections in the writers' room. WWE has not commented on the lawsuit.
In Abrahams's suit, she claims that senior writer Chris Dunn proposed a promo where Bianca Belair would say, "Uh-uh! Don't make me take off my earrings and beat your ass!" This was obviously stereotypical and Belair said, according to Abrahams, that she had repeatedly told the writing staff she wouldn't say that line.
In another heinous story laid out in the suit, Abrahams describes a storyline where a Muslim wrestler, Monsoor, would claim responsibility for 9/11. In another, a Black wrestler Reggie would be caged while being hunted by a white wrestler. Or he would dress in drag to team with Carmella. If true, these are insensitive at best, ugly at medium, and totally gross at worst. Given what we know about WWE and Vince McMahon, they also are hardly out of the realm of possibility.
And as you might expect, Abrahams's attempts to be an actual adult in the room and to try and install a conscience anywhere within Titan Towers' walls were met with being thrown out of said walls, according to her suit. Which also scans.
But none of this matters, at least not to WWE. They were just sold for $9 billion. Even if Abrahams and the company don't come to a settlement, whatever the verdict isn't going to cancel out their TV contracts. Vince McMahon couldn't be completely removed after his payments to women he had allegedly mistreated, or assaulted, came to light, and five minutes later Endeavor were forking over billions. WWE and their sycophants will point out that none of these storylines actually made it onto TV, so everything is fine. They're too big to fail, no matter how hard they try.
---
Follow Sam on Twitter @Felsgate.