According to USA Today, the NBPA will vote on a series of end-of-season awards, including MVP and Man of the Year, presumably out of an abiding hatred of basketball reporters.
The 2015 Players Choice Awards will be announced during the summer meetings in Las Vegas, and will be separate from the official end-of-season awards. The NBA's MVP was originally selected by player-vote, until the 1980-81 season, when it was turned over to a panel of national sportswriters. But while Michele Roberts's NBPA has tweaked media members—her qualms with locker room etiquette ruffled up the basketblogger corner of Twitter not used to taking elbows from the union—this should also be taken as a tangential move toward getting all NBA player affairs under the NBPA roof. It's symbolic, but an easy and probably useful way to engender a little solidarity (and, hopefully, to troll James Harden).
Also, other professions' awards allow the principals much more say in how they play out. The Academy Awards, for instance, hand over nominations entirely to those involved—so actors nominate actors, and directors nominate directors. Or you could just look at the player-voted version like the Screen Actors Guild awards, something that can just co-exist with the season's other awards. It would take a tremendous amount of self-importance to believe that this is cause for any great offense. So, naturally:
And just wait until the ones who actually have a vote get around to the kvetching.

G/O Media may get a commission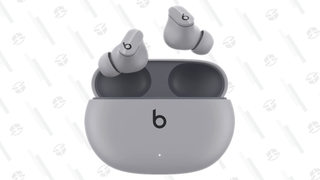 Even if all Michele Roberts's tenure as executive director amounts to is poking the haughty collective of basketball press in the eye until her term expires, it will be a laudable success.