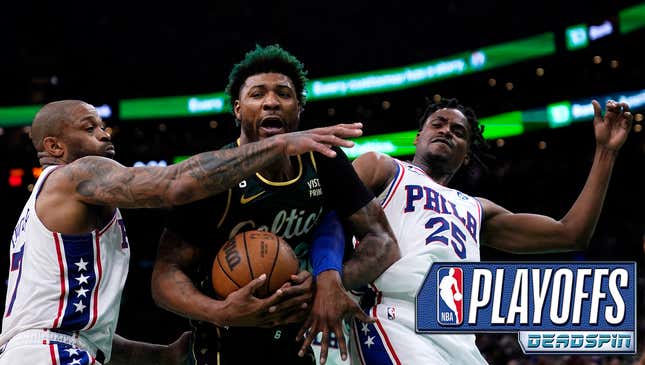 Boston Celtics fans, I saw the looks on some of your faces as you filed out of TD Garden early on Tuesday night. With the series tied at 2-2, there was no way you all expected the Philadelphia 76ers to pulverize your team in the second half on the way to a 115-103 victory.

Top 5 single digit scorers in NBA history
For goodness sake, James Harden strung together two great playoff performances in a row. In November, many of you might have thought you had a better chance of winning the Powerball than Harden playing that well in the 2023 playoffs.

That disappointing loss has the Celtics in a must-win situation on Thursday night. Either they win for a second time this series in Philadelphia, or this 57-win regular season team will be cleaning out their lockers before the end of this week.

The Celtics blew a second-round Game 5 at home last year
While the Celtics and their fans did not expect to be in this position, it is not as if they haven't survived it in the past. Just last season, they blew a second-round Game 5 at home. That was a game they absolutely should have won.
Boston was up 86-77 at the start of the fourth quarter against the Milwaukee Bucks. The C's held a 93-77 lead with just over 10 minutes remaining in the game, and were up double digits with 7:44 left to play. From that point on the Boston offense went cold, Giannis Antetokounmpo and Jrue Holiday hit back-to-back threes late, and Marcus Smart gave the ball away three times in the final minute.

One more thing I almost forgot about— that Bobby Portis putback. I still don't know how that missed free throw bounced off of all of those fingertips and right into his arms, or where he came from in the scrum, but those are the breaks.
Going back to Milwaukee, the Celtics' season was considered finished. They had blown their best chance at an NBA Championship since 2010. Then in Game 6, they dominated the Bucks for most of the day, but almost gave the game away again in the second half. That's when Jayson Tatum strapped the team to his back, and they rolled right through the rest of that series.

Of course, the Bucks without Khris Middleton are significantly worse than the 2022-23 Sixers. However, that was still a defending NBA Champion fighting tooth and nail to stay alive. No one in the Sixers' starting lineup has ever played in an NBA Finals game. Tuesday night's win is the most impressive from that franchise since Allen Iverson won the MVP in 2001.

Outplayed by Philadelphia in Game 5
Game 5 is the only game in this series in which the Celtics were truly outplayed by the 76ers. Harden had to make the two biggest shots of his NBA career to get his team out of Games 1 and 4 with a victory. Tatum scored seven points in Game 2 and the Celtics still won by 34 points.
This season, the Celtics returned their eight leaders in minutes per game from last year's postseason when they went to the NBA Finals and added Malcolm Brogdon — the 2022-23 Sixth Man of the Year.

Yes, the Celtics dug themselves into a hole. Mostly by not taking care of business when they had the opportunity, and their head coach might be in over his head. All they have to do though is win one more game. Same situation is last year, just push this series back to Boston for a deciding Game 7, and see if Embiid and Harden are ready for a win-or-go-home scenario on the road.

The Celtics have the better roster, and they are not in unfamiliar territory. All they have to do is play better basketball than they have for the last 55 minutes of game action.