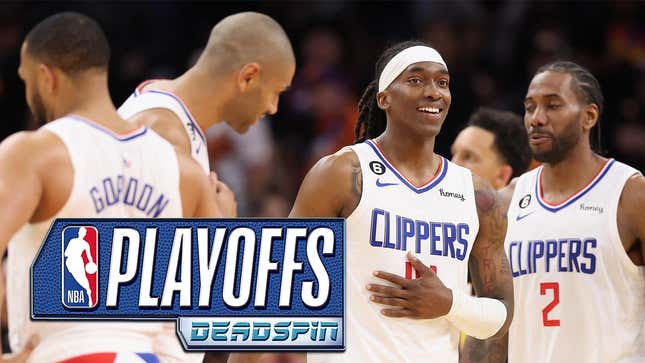 Just weeks after March Madness gave us an NCAA Tournament that provided multiple historic upsets during its first weekend, it looks like the pros in the NBA took that personally. Four of the eight matchups from this past weekend's Game Ones were won by the road team. And one of them was the Miami Heat, who knocked off the Milwaukee Bucks — a team that had the best record (58-24) in the league this season.

A single-elimination NBA playoff would change history
We knew these playoffs were going to be good — but not this good.

In the West, the No. 7 Lakers beat the No. 2 Grizzlies (128-112) in Memphis, while the No. 5 Clippers got a win against the No. 4 Suns (115-110) in Phoenix. And in the East, the No. 5 Knicks knocked off the No. 4 Cavaliers (101-97) in Cleveland, while the No. 8 Heat stunned the No. 1 Bucks (130-117) in Milwaukee.
Usually, the 4/5 matchup is the one series that can go either way, which is why the Knicks and Clippers wins weren't that surprising — unless you point out that it was the first time the historically overrated Knicks won a Game One road game since 1999. But, seeing a No. 1 and No. 2 seed go down early isn't something to ignore.
Why Game 1 matters
According to NBC Sports, the winner of Game 1 won the series 75.6 percent of the time (433-140) in a best-of-seven series through 2021. This stat is something that Heat, Lakers, Clippers, and Knicks fans should be committing to memory as visiting teams that won the first game went on to win the series 51.3 percent of the time (81-77). And if Miami, Los Angeles, and New York can all find a way to win Game 2, it means they historically have the series in the bag. Through 2021, teams with a 2-0 lead won the series 92.4 percent of the time (302-25).
Now, here comes the "but."
If the playoffs go the way that the numbers suggest, and the Lakers, Clippers, Heat, and Knicks all pull off "first-round upsets," will they be remembered that way given what took place in Game Ones across the league? The injury bug showed up, and it feels like that may determine who wins it all more than anything else.

In the first two games of the day on Sunday, three potential playoff-changing injuries occurred. Ja Morant is nursing a hand injury that could keep him out of a must-win Game 2 for the Grizzlies. "[It is] tough, man, especially with everything I've been through pretty much this season," he said, as he already served an eight-game suspension last month for conduct detrimental to the league. "My main focus was to be out there for my guys. It's another incident where that's pretty much in jeopardy."
The Bucks are concerned about Giannis Antetokounmpo, as they were without him for most of Game One due to a lower back injury he suffered in the first quarter. "We have to wait and see what the doctors say," said Milwaukee head coach Mike Budenholzer. "Most importantly, what Giannis says. Certainly, we've been blessed with him being incredibly resilient and quick to heal, but you've just got to take it day by day and see how he's doing and see how he feels."
And in that same game, Heat guard Tyler Herro broke his hand, as his status for this series and the rest of the season are up in the air. "You can't fully make up what Tyler has been for our team all year long, but guys got to step up, including myself, including Bam [Adebayo] and whoever Spo calls upon to do an offensive assignment, a defensive assignment, to bring some energy, to dive on the floor, get a loose ball or rebound," said Jimmy Butler. "It's like all hands on deck at all times, now more than ever."
All of this happened in a 48-hour window despite there not being much noise about how the Clippers beat the Suns without Paul George, who is out for at least this series with a sprained right knee.
Outside of baseball, the NBA has a moment in which they're the top dog in sports — until the NFL Draft takes place later this month. And for a league that's struggling with ratings with an upcoming media rights deal, this is the perfect time for them to regain the interest of casual fans as games are being played every night.
In the NCAA Tournament, early upsets lead to a lackluster Final Four. But in the NBA, they might be exactly what the league needs to get more people watching ESPN and TNT every night.