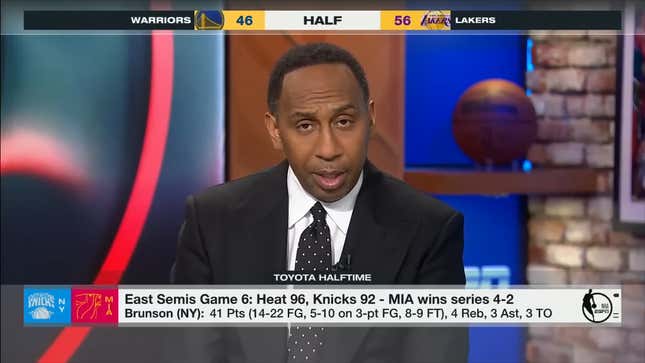 Longtime ESPN on-air personality Stephen A. Smith has made no secrets about where his NBA loyalties lie, and it's in The Big Apple with the Knicks. And New York's season ended Friday night with a Game 6 loss to the Heat. Of course, Smith took the loss personally, but that didn't stop Miami from recognizing his fandom before moving on to the Eastern Conference Finals.

The Miami Heat are one of the great underdog stories in NBA history | Keep it a Buck(et)
The Heat tweeted out a video with the caption: "You'll be going back to the Garden @stephenasmith … next season. #WINNING" with images of Smith praying on ESPN's airwaves and a Miami fan waving goodbye from inside Madison Square Garden. The Knicks and Heat have a long playoff history against one another and New York's faithful thought a No. 8 seed-Miami team was the franchise's best chance to advance to a conference championship for the first time since 2000, a season that featured a seven-game series victory over the Heat.

Smith's post-game video didn't shy away from lambasting anyone that wasn't Jalen Brunson. The ESPNer's video also came with recommendations for how the franchise could win its first NBA title since 1973, when Smith was five years old. The biggest is in the video's caption, acquiring Damian Lillard from the Trail Blazers, like adding an aging guard is going to elevate the team. Poor Stephen. His life is so hard.