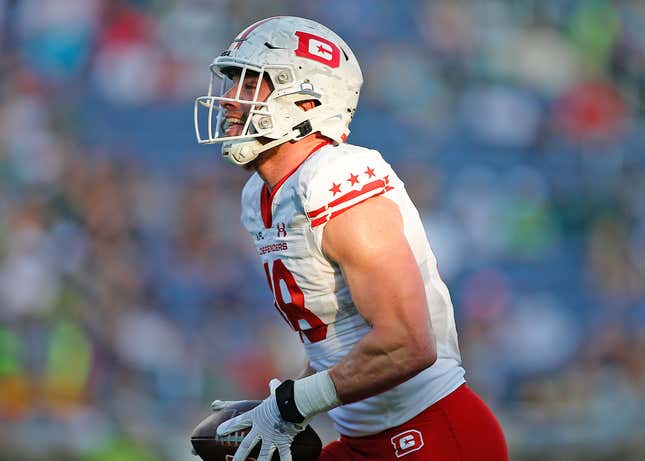 On Saturday at 8:00 p.m. EST on ABC (or ESPN+) in San Antonio, Texas, the D.C. Defenders (9-1) will face the Arlington Renegades (4-6) in the XFL Championship Game at the Alamodome. But, will anybody watch?
The league is hoping so, as the NBA playoffs have the night off. The XFL has a chance to take center stage, and they need it. Check this out from Sports Media Watch last week:

"The USFL delivered the two largest spring football audiences of last weekend — its first weekly win in the three weeks it has gone head-to-head with the XFL — as Memphis-Houston drew a 0.47 rating and 776,000 viewers on FOX last Saturday and Pittsburgh-Philadelphia 0.46 and 761,000 on NBC Sunday.

The two FOX windows last week — Memphis-Houston on Saturday and New Jersey-Michigan on Sunday (0.35, 563K) — won head-to-head matchups with the XFL playoffs on ESPN (Arlington-Houston: 0.38, 675K; Seattle-DC: 0.28, 478K).

No USFL or XFL game has cracked the million viewer mark in the three weeks the leagues have competed against each other. The XFL took top honors the previous week with a 0.51 and 832,000 for DC-San Antonio on ABC, as the USFL topped out at a 0.48 and 798,000 for Memphis-Birmingham on FOX."

A Defenders win will be a good day for Black coaches
If the Defenders win, it will be a good day for Black coaches, who, as we know, struggle to find and keep jobs as head coaches in pro football. Last April, the XFL announced Hines Ward, Terrell Buckley, Reggie Barlow, Rod Woodson, Wade Phillips, Bob Stoops, Anthony Becht, and Jim Haslett as its coaches for this season. Four of the eight coaches were Black, which is groundbreaking given that the NFL only has three coaches that identify as Black, which is only two more than the league had in 1921.
The Defenders' Reggie Barlow could be the first coach, of any race, to win the XFL Championship in the league's inaugural year in its new iteration on Saturday night.
Records could be set on Saturday — in TV ratings and the diversity column.