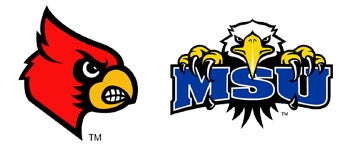 Midwest Region: No. 1 Louisville (28-5) vs. No. 16 Morehead State (20-15)
When: Friday, 7:10 p.m., EDT
Where: University of Dayton, Dayton, Ohio

LOUISVILLE CARDINALS

1) Introducing T-Will Terrence Williams, better known as T-Will, is as exciting and athletic as any player entering the dance. He is Mr. Everything for this Cardinal team, whether it be due to his court leadership, quirky demeanor that keeps the team loose or scissor-kick windmill dunks that rile up the crowd and leave the opposition in amazement. The man is a triple-double waiting to happen (he holds two of the programs three all-time). In the Big East title game, he put up a ridiculous 11 points, 7 boards, 7 steals and 6 assists. A mid-season tweak of his shooting motion has turned a once poor stroke into a deadly weapon. T-Will is among the most complete players in the land and the Cards would be nothing without his leadership. It is very comparable to how David Padgett led the squad last year, but better in many ways. Some in Louisville think he was spited on postseason honors, but the man is not looking for high fives and handshakes from the media through awards and accolades. He's looking to finish off his senior year with a national title.
2) Defense Win Championships An overused cliche, but a perfect fit for Rick Pitino's team. Obviously making shots are a necessity in basketball, but when the Cards are hitting it allows them to throw on the most vicious, in-your-grill press in college hoops. Guards Andre McGee, Jerry Smith and Preston Knowles make life living hell for opposing guards causing frequent turnovers. They are like wild dogs—the kind Mike Vick would lay the heavy bread on. Pitino says getting 35 deflections on defense will get you the win 9/10 times. The turnovers caused by the ferocious press get the Cards easy buckets and harm the opposition's morale. The Cards have been known to go on 15-0 or 23-2 runs based solely off their press which completely cripple their opponents. If the Cards' shots are falling and the patented Pitino press is engaged the Cards will be extremely tough to beat.
The Mystery of Earl Clark Earl "E5" Clark might be the most talented player to come through Louisville in the last 25 years. How he uses that talent is a different story. Recently Clark has had a monster games and is a double-double machine. However, Earl has been known to make horrendous decisions at the most inopportune times (ie: walking, lazy passes). This is something that has to concern Pitino moving forward. Clark turned it up for the tourney last year by eating Blake Griffin's breakfast lunch and dinner then taking his girlfriend out for a steak dinner and never calling her back in the second round. That is the E5 that needs to show up for Louisville. When Clark is ready to play that way, he gets this Bruce Banner-like look in his eye and just starts grabbing board after board and dunking on people's heads. Yet you really never know when that's going to happen. His draft stock is at stake and so are the title hopes of the Fightin' Cardinals, so for the Cards' sake let's hope the good E5 shows up. — Rob Jones (The L Yes! Report)
1) Nobody Ever Cheered for Lesshead. OK, now that we've all had our giggle, and irritated our girlfriends by ordering the Morehead sweatshirt with the strategically placed zipper, let's figure out what it really means. The university is located in Morehead, KY ("The happiest town on earth"). Both are, then, named in honor of former Kentucky Governor James Turner Morehead, a rabid anti-abolitionist who personally went after runaway slaves who sought refuge in Ohio. Dang. That's not sexy at all.
2) Loose Balls. Beware 6'8" sophomore Kenneth Faried has a pretty sweet all-around game. He's third on the national rebounding list, averaging 12.8 per game. That's a fine complement to his 14 points, 2 steals, and 2 blocks that tend to come about in every contest. Not a bad get for the fourth-best team in the Ohio Valley, eh?
3) Your Grandpa Beat My Grandpa. By winning the play-in, the Eagles get to face nearby neighbor Louisville as a sixteen seed. This is not an entirely unprecedented matchup. In 1961, when the tourney had just 32 teams and had consolation rounds, Morehead beat Xavier, then lost to Kentucky in the Midwest region. They played for third place in the losers bracket against Louisville, and lost again. Unlike a modern bracket, all of those schools were close enough together that one could hop in the Studebaker and visit them all in a single weekend, making the "Midwest" designation a little more meaningful. — Eric Angevine (Storming the Floor)
Join the Deadspin Pants Party Group Pool [ESPN]
Download the Deadspin Bracket [PDF or JPG]