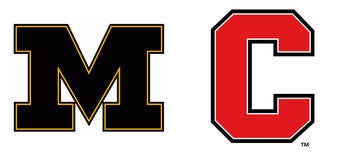 West Region: No. 3 Missouri (28-6) vs. No. 14 Cornell (21-9)
When: Friday, 3:00 p.m., EDT
Where: Taco Bell Arena, Boise, Idaho

MISSOURI TIGERS

1) Forty Minutes of...well, something. Here's what's so awesome about this year's Missouri team: you really, reeeeally don't know what you're going to see when the Tigers are on a neutral floor. At home, it's pretty simple. There's lots of pressure defense (Mike Anderson has always been a fan of the full court press), tons of deflections and steals and a whole lot of scorin' going on. On the road, Mizzou is just as likely to hack up a big, ugly hairball as they are to win (ask Nebraska and Kansas State). At a neutral site...well, who knows, really? They fell to Xavier early in the year thanks to middle school-esque free throw shooting, won a few laughers over USC and Cal, and had their stripes handed to them in St. Louis courtesy of Illinois. So what happens when Missouri has to play in Boise and then (hopefully) Phoenix, both places distinctively not Columbia, Missouri?
2) DeMarre, DeMarre, DeMarre That being said, when the Tigers are on, they're on. Their 81.1 points per game is good for sixth in the country, and they're second in steals per game and first in assists per game. The man who can do it all is DeMarre Freakin' Carroll. DeMarre Carroll, Missouri's representative on the first team all-Big 12, averages 16.8 ppg, 7.3 rpg, 2 apg and 1.6 spg. He also screams a lot. When he's not busy scoring, assisting, stealing (basketballs only, promise), rebounding or screaming, he's succeeding academically. He's on the Academic all-Big 12 team, meaning his head's screwed on a lot tighter than many of his Tiger predecessors. Or maybe all of them. Regardless, it's probably unwise to not pay attention to a 6-7, braided monster who's nicknamed the Junkyard Dog. The Junkyard Dog! Those kids at Cornell just peed a little reading that.
3) The ghost of Athena. Ah, yes. The infamous Athena nightclub. It's the place where hoop dreams literally go to die. In January of '08, back when the Tigers had a respectable chance to make a dent in the Big 12, a minor scuffle-turned-brawl-turned-minor riot occurred at Athena, a favorite hangout spot for Missouri athletes. Seniors Stefhon Hannah and Jason Horton—who were both pretty important and stuff—were charged with assault, and a total of five players were either cut or suspended due to the "altercation." The Missouri men's basketball team promptly descended to basketball hell, all hope was lost, and the program became even more of a joke than it was during the final days of Quin Snyder's reign. Coach Mike Anderson has since replaced many of the offenders with players more up to his personal standards (read: decent human beings) and the results have been special. Nobody knows how long this unexpected success will last, but hey, why let the fun end now? — Ian Thomas
1) The Best Laid Plans... At this point last year, the Big Red were coming off an undefeated Ivy League season and looking to make a national impression in the tournament as a 14 seed. Instead, Cornell travelled cross country to Anaheim, had their worst shooting day of the year, got clobbered by third-seeded Stanford, and had their cheerleaders mocked by Bill Simmons. So in planning for 2009, Cornell decided to push for a better seed in the tournament. The Big Red returned their five leaders in minutes, including reigning Ivy League POY Louis Dale, sharpshooting forward Ryan Wittman (son of Randy), and 7-foot center Jeff Foote. In addition, the team set up an ambitious non-conference schedules for a Cornell team, including games at Syracuse, at Minnesota, at St. Joseph's, and vs. St. John's in the NIT Tip-Off. Things were looking rosy for the Red, right up until a few weeks before their opening game when they lost their entire starting backcourt—consisting of Dale and senior Adam Gore—to injuries. As a result, Cornell dropped all of their tough non-conference games and blew double-digit halftime leads against the Orange and Gophers. Dale and Gore have since returned to action—though Ivy League Rookie of the Year Chris Wroblewski has taken Gore's place in the starting lineup—and the Big Red won the Ancient Eight for the second straight year. They are the first non-Penn, non-Princeton Ivy League school in 50 years to earn consecutive NCAA Tournament berths. Their reward for such accomplishments is another 14 seed and another cross country trip. But instead of sunny Anaheim, they'll be in Boise, Idaho this year. At least it will make Ithaca seem more exciting when they get back.
2) Earning Their Andy Bernard Comparisons Cornell is traditionally a hockey school before anything else. Every year, Cornell students camp out for season tickets to Big Red men's hockey and, before the school changed the system three years ago, risk broken limbs in a mad weeknight stampede to claim line numbers. Cornell's Lynah Rink is known as one of the toughest places for visiting teams to play due to the volume and spirit of the student fans. The men's basketball team's recent rise to (relative) prominence has resulted in record attendance for Big Red basketball. But while the quantity of student fans may be there, the quality is not. Back in November, Cornell hosted South Dakota in their season opener. It was supposed to be a game to celebrate last year's accomplishments with the raising of the Ivy League Champion banner, as well as set the tone for a highly-anticipated season. At the end of the game, however, nearly every student in the crowd was booing. The Big Red didn't lose—in fact they won by 10—but by only scoring 79 points, the students were denied their free chicken wings at Generic Local Chicken Wing Restaurant. This situation nearly resulted in a unusual incident a couple weeks ago. The game that clinched the Ivy League title for Cornell was won by a score of 83-59 over Penn. Had the Big Red scored four points fewer in that game, it would have been the first occurrence in world history of students storming the court while booing.
3) Cornell's Best Hope for a National Title (Obviously Not Basketball) This year, Cornell best sport is wrestling. Seriously, their wrestling team is number 2 in the nation. Who knew? — Max Wasserman