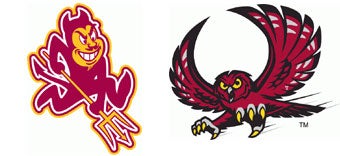 South Region: No. 6 Arizona State (24-9) vs. No. 11 Temple (22-11)
When: Friday, 2:45 p.m., EDT
Where: American Airlines Arena, Miami, Florida

ARIZONA STATE SUN DEVILS

1) What about the Devil's haircut? The Sun Devil "pitchfork" is a well-known symbol among the Arizona State faithful, but ignorance of this practice outside the Grand Canyon State led to a bit of a (non)controversy in certain corners of the internet last fall. The "pitchfork" is a hand gesture in which the middle ring finger is tucked down against the palm while the other three fingers are spread out to resemble a makeshift trident. Unfortunately, this hand signal is also used as a marker for a well-known but rarely attempted sexual practice. So while getting the President of the United States to be photographed making such a gesture is, of course, awesome—it was briefly confusing to other fans of semi-consensual hand love.
2) Baseball U Arizona State has sent 34 players to the NBA, including Byron Scott, Lafayette Lever and the impeccable Eddie House. (No relation to the TV doctor.) But that's not nearly as impressive as their baseball program, which has the third-highest number of Major League alumni of any school. Their progeny include Hall of Famer Reggie Jackson, should be Hall of Famer Barry Bonds, Bob Horner, Dustin Pedroia, Fernando Vina, Hubie Brooks, Paul Lo Duca, Sal Bando, and living legend Oddibe McDowell.
3) Lil' Devils Coach Herb Sendek left the basketball wasteland of the ACC in 2006 to come turn around the lackluster Sun Devil program. They finished dead last in the Pac-10 his first year, but two seasons later they're all the way up to third, knocked off regular season champ Washington in the conference tournament and hope to make it past the first weekend in the NCAAs for the first time in over a decade. They are probably also hoping that it won't be another 10 years before the get back, thanks to a nice youth movement in Tempe. The team has only one senior (forward Jeff Pendergraph) and if sophomore James Harden doesn't get any ideas and bolt for the draft, they'll have the reigning Pac-10 Player of the Year next season. — Dashiell
1) Dionte Christmas ain't bad The 6'5" senior averaged 19+ points for the third straight year. Though he shot an Iverson-esque 41% from field goal range, his ability to make it rain from deep and put the team on his 205 pound frame in crucial situations is the sole reason Temple has won back to back A-10 tourneys. The back to back A-10 Tournament's Most Outstanding Player's skills were best showcased during a ridiculous 35 point output in December against then ranked #8 Tennessee when he displayed his penchant for explosive games. The only way Temple can be successful in this tournament is if Christmas brings his A-game. Notice that I did not include any holiday puns.
2) Fran Dunphy: Miracle Worker After a disastrous ending to John Chaney's storied Temple coaching career, the future of the organization was put into the hands of 10 time Ivy League title winner Fran Dunphy in 2006. He responded by leading the Owls to consecutive NCAA tourney bids for the first time since the 2000-2001 squads led by Chaney.
3) Defense Defense Defense Unfortunately, Temple just doesn't have enough offensive weapons. After Christmas, the only legitimate offensive player is 2nd year power forward Lavoy Allen or third year guard Ryan Brooks, who both averaged around 10 points per game. The defense will be the key to success. The Owl defense really came alive during the A-10 tournament, holding opponents to under 65 points a game and forcing a powerful Xavier squad into 34.5% shooting from the field including only 2 field goals in the final 7 minutes of the game in a 55-53 nailbiter. They limited the Musketeers to their lowest point total of the season. If Temple can play defense at the level they did against Xavier, they have a legitimate shot at reaching the Sweet 16. — Shakey
Join the Deadspin Pants Party Group Pool [ESPN]
Download the Deadspin Bracket [PDF or JPG]