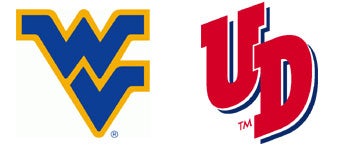 Midwest Region: No. 6 West Virginia (23-11) vs. No. 11 Dayton (26-7)
When: Friday, 3:00 p.m., EDT
Where: Hubert H. Humphrey Metrodome, Minneapolis, Minnesota


WEST VIRGINIA MOUNTAINEERS

1) Can I Get One In Napping or Work Avoidance...or Chemistry? In 2008 it was reported that WVU had granted an MBA to the daughter of the governor, even though she hadn't even completed half of the credits needed for such a degree. In fact, six of her courses had grades changed from "Incomplete" to a grade of "A" based on..."work experience." This leads me to believe that, in addition to being the governor's daughter, she either 1) REALLY worked a lot and gained some valuable real-world insights, or 2) she was pretty hot. Anyway, numerous heads rolled because of this, and an audit of other records of MBA and undergraduate students revealed inconsistencies involving almost 400 students. WVU rescinded the guv's daughter's MBA, thereby living up to the billing of what the Princeton Review calls "One of the 368 best colleges in the nation."
2) Wear Gloves One of the university's most notable programs is in Forensic Science. The program was established with help from the FBI, and the biggest library repository for the biggest damn forensic organization on the planet—the International Association for Identification—has its official library repository here. So that Calleigh Duquesne-look-alike you gave a fake name to and hooked up with last night? Yeah, depending on what you, um, left behind, most likely she's already run it through a couple of machines at the lab, snagged your entire family's SS numbers and has, Andy Dufresne-style, created a phantom version of you who is currently transferring every dollar of your checking balance, 401(k), and the deed to your dad's Buick dealership into her account in the Caymans. Serves you right.
3) 1-2 Punch Da'Sean Butler and Alex Ruoff are a pretty potent one-two senior punch for this squad which has shown fine progression throughout the year. We all know Ruoff can drill the three and the team as a whole does a superb job in defending beyond the arc (13th nationally, with opponents shooting 30.1%). This is a group who went from dropping games to the likes of Kentucky and Davidson early in the season to beating teams like Villanova and Pittsburgh later in the year. Dayton's a good squad but they've got their hands full with this bunch. — Rush The Court
1) It's all in the rear-view. Dayton's heyday, like America's, was back in the 1950s and 60s. The Flyers won more games during that span than any other division one program, racking up 435 wins (UCLA is second with 427). This has led to two distinct viewpoints among the Flyer Faithful. On one side, you have the folks who believe the program can return to its former greatness. On the other, you have people who realize that the last time UD was a prominent national power their fathers were knee deep in rice patties and yet-undiscovered venereal diseases—and things aren't likely to change. These opposing viewpoints have led to countless fights, fisticuffs, donnybrooks and melees.
2.) Take me home ... country roads Dayton plays West "Fucking" Virginia, made famous by couch fires and John Denver's karaoke inducing tune. Dayton fans wish the Flyers were playing in the friendly confines of UD Arena, where they went 18-0 this year. Picking Dayton to advance in your bracket? Caveat emptor, brothers and sisters. They are historically terrible on the road and have not won an NCAA Tournament game since 1990. The Flyers have struggled since point guard Rob Lowery went down with an injury in their victory against Xavier. Fan favorite, and current backup guard, Brad McEldowney provides pre-game entertainment with freestyle rapping and break dancing.
3) The Church of Izzo Dayton's current roster is hands-down the most athletic edition of the Flyers the Gem City (you heard me) has ever seen. Part of this can be attributed to the fact that UD no longer concentrates its recruiting efforts solely on guys with rattails. A larger part has to be ascribed to Brian Gregory's ability to bring in the type of recruits that routinely bypassed UD for bigger programs. Players such as forwards "Kountry" Chris Wright and Chaz Little, as well as junior guard Marcus Johnson, are freakish athletes that will make you question everything you know about physics and love. Dayton's system resembles Michigan State's, in the sense that defensive pressure is paramount to the Flyers success. This should come as no surprise, as Brian Gregory plied his trade as an assistant for Tom Izzo in East Lansing. Brian Gregory is also Michael J. Fox's twin...without the uncontrollable shaking of course. Unless he is arguing a call. Which is often. — Tom Blackburn and Don Donoher (Blackburn Review)
Join the Deadspin Pants Party Group Pool [ESPN]
Download the Deadspin Bracket [PDF or JPG]