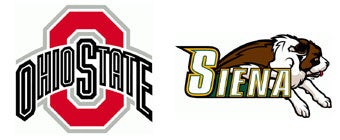 Midwest Region: No. 8 Ohio State (22-10) vs. No. 9 Siena (26-7)
When: Friday, 9:40 p.m., EDT
Where: University of Dayton, Dayton, Ohio

OHIO STATE BUCKEYES

1) They don't reload; it's an automatic Few programs have been as affected by the NBA age limit rule as Ohio State's, perhaps because few coaches seem to care less if any of their players stay for more than one year or not. Thad Matta watched three freshmen leave from a Final Four team in '07, then saw another one-and-done player leave the following season, but he doesn't blink twice when signing up even more high school All-Americans that seem intent on leaving Columbus without even unpacking their bags. That would probably frustrate most fan bases—imagine Mike Conley, Daequan Cook and Greg Oden still playing together as juniors ... IMAGINE IT!—but Buckeye fans just have to roll with the punches. Matta's two conference titles and high-70s winning percentage make it easier to take, but just think what he could do with a little continuity on his roster.
2) One and ... done? The latest of superstar rookies was supposed to be B.J. Mullens, a 7-foot center who most expected to be making nothing more than a cameo appearance in college before going in the first round of the NBA Draft. Of course, that brief appearance is probably already too long for his tastes. Mullen has been relegated to utility player, showing brief flashes of brilliance (12 points in 15 minutes in an upset of Michigan St.) followed by moments of frustrating incompetence (3 points and 2 rebounds against Purdue a day later.) His diagnosis? He needs more playing time. (Because all great players need six or seven minutes of game time before they can do anything useful.) Incredibly, folks are still talking about an early exit and Mullens did win the conference's Sixth Man Award, but I'm not sure how an NBA team justifies using a first rounder on a guy who can't crack the starting five of his college team. (Oh wait, the right GM can justify anything.)
3) Oh, the other guy OSU's best freshmen this year has actually been William Buford, a big 6'5" guard who developed into a nice compliment to leading scorer Evan Turner. Buford struggled at times down the stretch of the conference season, but had an impressive Big Ten tournament, helping the Buckeyes reach the final game. If he can keep the hot hand and prevent teams from handcuffing Turner, maybe those two guys can share a cab right out of town come April. — Dashiell
1) Cinderella man Siena senior and co-captain Josh Duell must be the magic ingredient for mid-majors. In addition to last season's upset over Vanderbilt, he was part of the Vermont team that upset Syracuse as a 13 seed in 2005-2006. Duell, who has battled numerous injuries this year that have relegated him to bench duty, is known as the goofball on Siena. He's a local boy and a fan favorite at all the home games. Who knew that the real Cinderella is 6'7", 253 pounds?
2) Family matters No, we're not talking about Steve Urkel and Co., although at times Siena forward Ryan Rossiter can look as goofy as the former television geek. The sophomore was Siena's most improved player this season, thanks to bulking up in the offseason. He has nine double-doubles this year, including a 16 point, 14 rebound performance in the MAAC Championship game. Rossiter will be the reason that Siena goes farther in this year's tournament, as he solidified the weakest link in their lineup, adding muscle to a team that averages 77.7 points per game. His brother, Steve, is a senior forward at Davidson, last year's tournament darling. Ryan would love to one up big brother with a Final Four bid.
3) An all-conference marriage Watch out for Coach Fran McCaffery's wife Margaret, who's well known for going at referees in the past. In 2006, she was ejected from a game against Hofstra after going off on a profanity-laced tirade to an official, joining her husband, who was ejected earlier in the game. After a loss to Loyola last season, Margaret said to reporters, "Here's your headline: 'We got hosed.' Will Bush is a horrendous official." Hubby even cut her off ("Marg, that's enough!") when she started asking him questions about the officiating at his postgame press conference. Don't write her off though, she can play; she ranks 12th on Notre Dame's all time scoring list and sixth on their career rebounding list. Fran (known as "White Magic" in his playing days) and Margaret went on one of their first dates to a NBA exhibition game. — Mark Cooper
Join the Deadspin Pants Party Group Pool [ESPN]
Download the Deadspin Bracket [PDF or JPG]