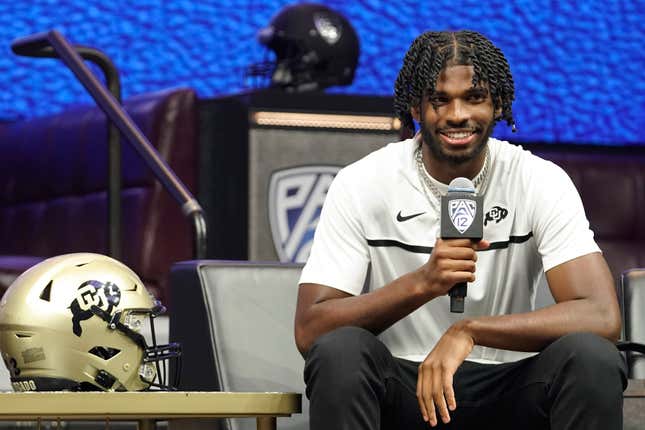 Last week at the Pac-12 Conference's annual football media days, Colorado was considered by far the league's biggest flight risk. It's USC and UCLA's last season affiliated with the West Coasters before, let's be honest, being promoted to the Big Ten. The Power Five is truly a supreme duo, with the Southeastern Conference, alongside the future home of the Bruins and Trojans, dominating the country. The ACC, Big 12, and Pac-12 are all dreaming of thinking they're not the true purgatory trio, above the Group of Five. With a downsize by two coming next summer, and ongoing negotiations for a media-rights deal taking longer than anyone imagined, the beautiful picture Pac-12 Commissioner George Kliavkoff tried to paint last Friday of the remaining conference teams committing to each other long-term was always hollow, and took all of five days to completely expose.
How running an NFL team is like running a restaurant | Chef Emeril Lagasse
Where there's smoke there's fire in college sports. One leak turns into several, turns into denial, turns into a 180 into reality. Just like Deion Sanders becoming the head football coach at Colorado and leaving Jackson State, the Buffaloes are departing the Pac-12 for the Big 12 imminently, well still reportedly. But you get the gist of what's about to happen. The soon-to-be-Pac-9 either has to welcome new teams to the fold to keep its membership even and happy, or here comes the collapse. The more likely outcome will also be the more entertaining to watch. Congrats to new Big 12 member Utah! The Holy War in Power Five play? Count me in!

Is Colorado's impending departure for the conference it helped found in 1994, and left in 2011 to join the Pac-12, the end of Kliavkoff's baby? Not necessarily, but acting quickly in response is the only way to save it. A loss such as Oregon, Washington, or Stanford would've been lethal. Colorado wasn't a high-priority member of the Pac-12. And you know who understood that best? The Buffaloes, which is why in a Big 12 without Texas, Texas A&M, Oklahoma, Missouri, or Nebraska, they have the credentials to be an integral member from the jump. Less than half of the new Big 12's membership would be founding members. But of course, the Big 12 wouldn't sit with an odd membership. So who is joining Colorado is an interesting question. While I floated Utah above, and that makes perfect geographical sense, I'm not betting on that coming true.

Replacing Colorado with San Diego State, Fresno State, Boise State, or Wyoming is the band-aid the Pac-12 needs. If I'm Big 12 Commissioner Brett Yormark, I'm going after the other former founder to leave who would listen to a second stint: Nebraska. What exactly has worked out for the Cornhuskers since leaving the Big 12? Football is a joke, despite how they pack stadiums, men's basketball is the equivalent of Rutgers football, but worse, and please don't bring up the school's volleyball team. It's great but isn't a needle-mover in the grand scheme of college athletics. Why wouldn't Nebraska be open to that move? If being irrelevant in one of the two supreme conferences is so great, where are the results to back it up? Why not try to compete and rise up the ranks in your former home?

This will be the latest chapter of this decade's conference realignment, all as a money grab. And yes, Nebraska will likely have more automatic revenue as a Big Ten school, but at what cost to athletic success? Colorado is in a unique position where both sides could benefit from a change in membership. The Pac-12 won't miss having Sanders on one of its sidelines. The Big 12 would love it.