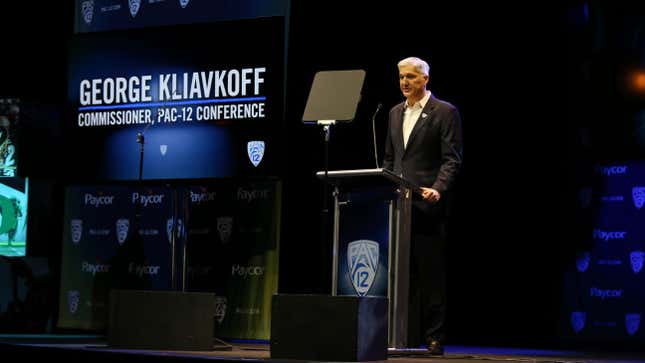 Updated March 30: CBS Sports is reporting that the Pac-12's media rights deal is still up in the air.
Worst sports moments of the week
"I have heard nothing to suggest [a deal is] imminent," University of Arizona president Robert Robbins told CBS Sports this week. "There's all these things about, well, 'We want to wait until [after] the Final Four.' That has nothing to do with it. It has to do with assessing who is the right fit, who assesses us."
---
I'm not sure the Pac-12 can afford to get more difficult to find. They might be able to afford quite a bit if they ink a deal with Apple or Amazon, as conference commissioner George Kliavkoff seeks a sizable TV rights contract to provide his athletic directors with a reassuring pillow of cash to lie their worried heads on. However, optics and, most importantly, eyes are everything.

Amazon and Apple know as well as anyone how hard it is to break audiences of their muscle memory to turn on the TV and go to the input or app for Netflix, HBO, or the cable box. Why do you think Ted Lasso has been everywhere, including in pints of Jeni's Ice Cream and at the White House?
While I'm sure Apple would roll out a promotional push reminiscent of what Amazon did with the NFL's Thursday Night Football, the Shield is a different beast, and Amazon still had to reimburse some advertisers for TNF not lining up with projections.
That brings us to ESPN, the third company trying to woo the Pac-12. Or is the Pac-12 the seducer? I have no idea. Anyway, from what I've read — and this tracks with the layoffs rumored to be coming at Disney/ESPN — the only way the Pac-12 ends up on the Mothership is by taking a low-ball offer that gets the conference a few games on the main feed, but a lot of ESPN+ action.
Getting a Pac-12 after-dark audience is already hard enough
I'm vehemently not the guy who bitches about games starting or ending late. Some industries require employees to be on 6 or 7 a.m. calls, and sports journalists, at least in theory, should treat staying up past their bedtime as part of the job.
That's not the case for fans or audiences. They're going to watch when and where it's convenient, and if it's on Apple or Amazon at 9 p.m. Saturday night after watching football all day, good fucking luck. Weeknight hoops after 10 p.m.? Don't even bother looking at the ratings.
Take away USC football and UCLA basketball in a year or two, and the greater Los Angeles metropolitan viewership is gone. The Big 12 may have been able to convince Fox and ESPN that its product is worth $2.3 billion, but that was before Bob Iger returned to Disney, and before we learned about the company's out-of-control streaming spending.
That leaves Apple or Amazon. Each has live sports, but the returns have been whatever. Be it MLB on Apple, or the NFL on Amazon, streaming services have yet to figure out a fool-proof blueprint for broadcasting games. This isn't CBS, NBC, or TNT where you plug in the games on a channel and watch viewers tune in.
I understand banking on fans pivoting to sports on services; it just feels like an extremely risky proposition considering the current apathy toward conferences not named the SEC or the Big Ten.
What is the Pac-12's worth?
The Pac-12 hasn't won a national championship in football or men's basketball since 2004, and that was USC. The Big 12 had a team in the College Football Playoff final in January, and boasts the past two winners of men's March Madness. They can at least provide a few notable accomplishments whereas the Pac-12 just gets to tell you how good Utah is.
Oregon will soon be the conference's biggest brand remaining, and they've been rumored to the Big Ten. We've also heard similar rumblings about the "Four Corners" schools — Colorado, Utah, Arizona, and Arizona State — getting interest from the Big 12. Honestly, all the doomsday scenarios and talk of grants of rights make my brain bleed.
I personally couldn't give a shit about which conference has done what and how recently, but that's not the reality. The reality is if the Pac-12 screws this up, which is a possibility even with a new TV deal, college sports fans will be on the path to a two-conference hierarchy with a bunch of orphaned universities fighting each other for scraps.
Then there will be only one way to stop the Big Ten and SEC's lust for power, but America doesn't seem too intent on breaking up monopolies as it is.