Florida Gators (27-6) vs. South Alabama Jaguars (24-6).
When: Thursday, 2:55 p.m.
Where: Jacksonville, Fla.
FLORIDA
1. Joakim Noah Is A Fancy Man. Everyone knows Joakim Noah is the son of French tennis great Yannick Noah. Joakim not only inherited his father's athletic ability, but apparently he picked up some European style from Yannick as well. Joakim was once photographed on campus wearing some sort of fancy, full-length man-dress. Not exactly intimidating civilian clothes for an elite center.
2. Lance Armstrong Could Teach The Team A Thing Or Two. Lee Humphrey missed two games this season with a separated shoulder, suffered after he fell off his bicycle. Humphrey was riding alone when he lost control of his bike and took a nasty spill. "Maybe it was defective spokes, maybe he needs training wheels," Billy Donovan surmised after the accident.
3. Billy Donovan Is A God. The Gator basketball program began play in 1915. Before Billy Donovan arrived in 1996, the Gators appeared in the AP poll a grand total of 42 weeks and made just five NCAA Tournament appearances. This year marks Donovan's eighth straight Tournament appearance, and the Gators have found themselves ranked in the AP poll 120 weeks during Billy the Kid's 10 seasons in Gainesville. Donovan also helped the O'Connell Center morph from a cavernous canvas-domed warehouse to one of the most intimidating atmospheres in basketball, thanks to a new roof and Donovan's creation of the "Rowdy Reptile" student section. — Roy Hutchins
G/O Media may get a commission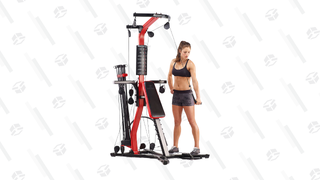 31% Off
Bowflex PR3000 Home Gym
SOUTH ALABAMA
1. "USA! USA!" Years ago, when I first heard the University of Arizona fans chanting "U of A! U of A!," I was wondering why they were so damn patriotic, as it sounded a hell of a lot like "USA! USA!" As if the American fans in Torino didn't already wear it out, you're going to get a lot more chants of "USA! USA!" as long as the Jaguars are in the tournament. The University of South Alabama proudly calls itself USA, and the fans will surely want to beat whoever tunes into the game over the head with it.
2. It Always Comes Back To Duke. USA head coach John Pelphrey can't get his last game as a Kentucky Wildcat out of his head. In 1992, the senior co-captain watched as Christian Laettner took Grant Hill's 75-foot overtime pass at the top of the key and put it in the bucket. Pelphrey couldn't blame himself for the loss, though; he went 5-for-7 from the field and 3-for-4 from downtown.
3. Once A Jaguar, Only A Jaguar. In USA's 43-year history, only four basketball players have been picked in the NBA draft, but no one has been picked since 1985, when two players were selected. Dexter Shouse has the honor of being the most recent draftee from USA, picked in the fourth round by the Lakers that year. Shouse never saw playing time until the 1989-90 season, when he saw 18 minutes in three games with the Philadelphia 76ers. He never played again after that. The other Jaguar drafted that year was Terry Catledge, who had the most successful post-USA NBA career. "Cat Man" was the 17th pick in 1985, selected by Philadelphia and played for the Bullets and Magic. USA sports fans do have one shining star to hitch their trailer to: Arizona Diamondback Luis Gonzalez, who batted in the World Series-winning run against the Yankees in 2001. Last month, Gonzo turned down an offer to play for the other USA baseball team in the World Baseball Classic. — Cyd Zeigler
Deadspin Printable Bracket (PDF) (JPG version)
Join The Deadspin Pool!
NCAA Tournament First Round Schedule [Deadspin]
Complete Deadspin First Round Matchup Previews [Deadspin]