Marquette Golden Eagles (20-10) vs. Alabama Crimson Tide (17-12).
When: Thursday, 2:40 p.m. ET
Where: Oakland.
MARQUETTE
1. The New Nickname Is Golden Eagles, Still. Marquette decided that they would change the athletics nickname this summer, corresponding to their move to the Big East. It was announced that Marquette would be known as the Gold. That s it: Gold. Trying to join the elite group of schools with colors as their nickname - Stanford (still can t find Cardinal in my 64 pack of crayolas) and, uh, the University of Chicago (Maroons) — didn't work. So they changed the name back to the same thing it had been, Golden Eagles. Way to go. (True longtime fans still go with Warriors.)
2. Freshmen Will Be Freshmen. MU is depending heavily on three freshmen to lead the team, plus a sophomore from Senegal who just now realized he is allowed to use his hands. The last-minute losses to Louisville, Pitt and Nova are symptomatic of a young team trying to find its consistency. A case of the nerves down the stretch of a tight game can be expected, the same as one can expect the Big Dance to provide tight games which come down to the wire ... This could be trouble.
3. Crean Is Finally Earning His Kwan. The coach of the Warriors, Tom Crean, is finally living up to the hype and attention paid to him a couple summers ago. Coaching up a squad lead by a 6 10 3-point shooting senior and a collection of talented freshmen should be Line 1 on Crean s resume, even over his Final Four appearance a few years ago. In reality, Dwyane Wade shouldn t be tithing 10 percent of his salary to his church; it should be Tom Crean tithing 90 percent of his massive post-Wade contract to Dwyane. Crean has done a great job with the young team, even instituting some trick plays like pressing early in the first half and even switching up defenses in reaction to an opponents strengths. But Crean will be Crean watch for wholesale substitutions of at least 3 players which completely kills the mojo. — Brian Saperstein
G/O Media may get a commission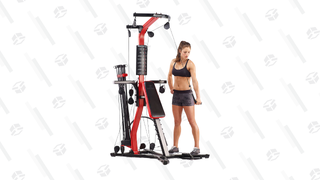 31% Off
Bowflex PR3000 Home Gym
ALABAMA
1. Their Name Is Mud. Alabama eschews "normal" team names and mascots and instead goes with the "Crimson Tide" and an elephant. In 1907, Alabama played Auburn in Birmingham in what was the last football game between the two rivals until 1948. Auburn was heavily favored, but Alabama played a great game on a field that was essentially a sea of mud, and a local sportswriter coined the phrase "Crimson Tide" in his description of the Alabama players' uniforms. The elephant mascot got its origins in 1930, when Alabama played a home game against Ole Miss. For some reason, the second team started the game, and after a close first quarter, the first team came running onto the field. A local sportswriter wrote that a fan in the stands yelled "the elephants are coming!" The first team then proceeded to kick the crap out of Ole Miss. Regardless of whether the fan's exclamation is true or not, how funny is it that 'Bama started their second team against Ole Miss, toyed around with them and then trotted out the first team to blow them off the field?
2. Even Their Radio Guys Are Badasses. The producer emeritus and founder of the Alabama Sports Radio Network, Bert Bank, survived the Bataan Death March and 33 months as a prisoner of war in World War II. He is one bad dude, and his presence serves to illustrate that Alabama's radio network is way tougher than your radio network. So there.

3. P.J. Carlesimo? Not A Fan. Famous alumni that you may not know about (or realize) include: Latrell Sprewell (thanks for the great reflection on our alma mater, buddy), ESPN regular Rece Davis (how this guy keeps his composure on College Gameday Final after Alabama losses is beyond me) and longtime Yankees sportscaster Mel Allen (How about that?). — William Hocutt
Deadspin Printable Bracket (PDF) (JPG version)
Join The Deadspin Pool!
NCAA Tournament First Round Schedule [Deadspin]
Complete Deadspin First Round Matchup Previews [Deadspin]