Oklahoma Sooners (20-8) vs. Wisconsin-Milwaukee Panthers (21-8).
When: Thursday, 12:25 p.m.
Where: Jacksonville, Fla.
OKLAHOMA
1. Longar Longar: Future Cult Hero? I love this guy, and you have to love anyone with the same name twice. Forget the fact that he should shorten it to one name like "Cher" or "Yao"; a 6'11 Sudanese import at a school filled with what Nebraska coach Bill Callahan called "[expletive] hillbillies" is a recipe for a hero of Mutombo-like proportions (or at least some unintentional comedy). Aside from being tall and lanky, Longar has the most potential of anyone on the Sooners' bench, and some late game heroics and a Final Four bid might put this guy into the stratosphere. Apparently he had to take his SAT's a couple times and go to prep school before attending, which brings us to our next point ...
2. Oklahoma Players Don't Often Graduate. This is generally true with men's basketball players as a whole. But according to the latest NCAA reports on grad rates, 0 percent of players who entered the school in 1998 or 1999 graduated within a six-year span. Now, everyone knows that the statistics are a little skewed against transfers (and aren't recent enough to count newer students) but a 0 percent graduation rate? Come on guys, you can do better than that. Someone get these kids into Communication Studies already.
3. "Always A Bridesmaid, Never A Bride." OU ranks second in tournament wins without a national championship, right behind Illinois (naturally). It's not like they haven't been close, though; Oklahoma basketball was a premier national power back when we were all watching "The Smurfs." After multiple conference championships throughout the 80's, the Sooners were the favorite to win the Final Four in 1988 on the backs of future pros Mookie Blaylock, Harvey Grant and Stacey King. In the finals, however, Danny Manning and the Miracle Jayhawks beat the Sooners in one of the most dramatic upsets in tournament history. Talk about getting smurfed over. By the way, THIS is a sooner. Consider yourselves informed. — Will Rand
G/O Media may get a commission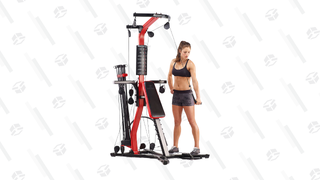 31% Off
Bowflex PR3000 Home Gym
WISCONSIN-MILWAUKEE
1. Rob Jeter Is In The Wrong Sport. Coach Jeter s dad, Bob, spent 11 seasons as a defensive back in the NFL (eight for the Packers, three for the Bears) and was a two-time Pro Bowler. Also, Yankees shortstop Derek Jeter is his brother. OK, not really.
2. Stop Stealing Our Coaches. Both Wisconsin s Bo Ryan and Tennessee s Bruce Pearl were plucked from UW-M after short but successful stints as head coach. No hard feelings though; the Panthers robbed Jeter from Ryan s staff, while Pearl at least had the decency to leave his antiperspirant behind. Additionally, Illinois' Bruce Weber graduated from UW-Milwaukee, long before kicking the crap out of them in last year s Sweet Sixteen. Another alum, comedian Frank Caliendo, isn t a coach, but he does a decent Madden.
3. Name That Team. The Wisconsin-Milwaukee Panthers have not always been the Wisconsin-Milwaukee Panthers. The university has been known as Milwaukee State Normal School, Wisconsin State Teachers College, Wisconsin State College of Milwaukee and finally UW-M. The nicknames: Normals, Cardinals and Green Gulls. Before moving to Division I, they worked their way up from Division s II and III as
well as the NAIA. Feel free to wake up now. — Brett Winkler
Deadspin Printable Bracket (PDF) (JPG version)
Join The Deadspin Pool!
NCAA Tournament First Round Schedule [Deadspin]
Complete Deadspin First Round Matchup Previews [Deadspin]