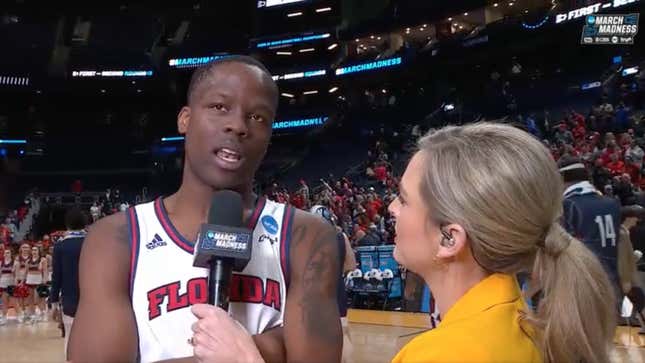 One of the beauties of college sports is that viewers get to see young people act like young people. Sure the professionals play the game better, but sometimes youthful exuberance makes up for the many more fundamental mistakes. While we get to view their excitement, the coaches and sports information directors do try to shield the players' personalities from the public. The young people still have a lot to learn so it's best that their personal shortcomings not be broadcasted. For example, young people can be quite vulgar.
Does the NBA need to fix the All Star Game?
Usually amateur athletes avoid cursing on camera, but a few players let the four-letter words fly during March Madness opening weekend.

It's OK, it's TruTV
Florida Atlantic is capturing the hearts of NCAA tournament fans as the loveable underdog. The school did not have a men's basketball team until 1988. They weren't Division I until 1993. 2023 is the program's first-ever NCAA Tournament appearance, and they are on their way to the Sweet 16.

Johnell Davis was so excited that he forgot to watch his language and accidentally said "shit." He was immediately apologetic but Jamie Erdahl reminded him that while live, they were on TruTV so no FCC fine was imminent.

Once Davis broke the seal, the curse words came rushing out. Drew Timme — who is old enough to know better — dropped an F-bomb after Gonzaga's Round of 32 win over TCU. Unlike NCAA Tournament rookie Davis, Timme did not break stride. He was so comfortable that saying a swear word didn't even affect the length of his response.

It's happening in the women's tournament as well
Then in the women's tournament on Monday Night, the University of Miami became the second team this year to knock off a No. 1 seed when they defeated Indiana. Destiny Harden hit the game-winning basket for the Hurricanes in the waning seconds. She sat down for a courtside interview with the broadcast team and revealed a discussion that she had with an assistant coach shortly before making the basket.

Harden said that she was told to "face up and win the fucking game." She too apologized immediately following her NSFW language.

Just like Davis, Timme and Harden did not curse on a broadcast network so no harm was done. Maybe a couple of seven-year-olds heard some language that they only hear when the family car is taken to the body shop, or mommy is on the phone with a college buddy. The opening week of the NCAA Basketball Tournaments is neither the first nor last time they will hear a bad word before they are legally old enough to watch an R-rated movie.

There will likely be some reminders given to players about appropriate language in interviews, but I for one enjoyed it. The language that me and my college friends used — even the language that was used at the middle school lunch table — made Andrew Dice Clay's act sound G-rated by comparison. That's how young people talk, and it was fun to hear it unedited.

This doesn't mean that college players should go Fred VanVleet on referees. That type of bitterness needs to be reserved for adults who have built that type of rage up over decades. But an excitable young person being young and excited is the reason why we watch less-than-professional quality sports in the first place.