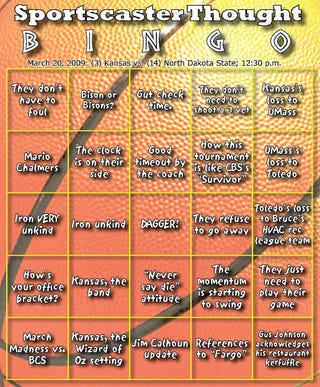 Your live blogger for this game will be Teddy from Gowanus Rotisserie Baseball Gazette. That's actually the shortened name. His full name is "Theodore."
Greetings, square-staters! I'll be your substitute Sussman for this first-round game between the Jayhawks of Kansas University and the Fightin' White Guys of North Dakota State. If Vegas is to be believed, this is the 3-14 matchup most likely to produce an upset this year, an outcome that would likely lead to gangs of Kansans and North Dakotans fighting pitched battles somewhere in the vicinity of Wall Drug. Which would be awesome, so let's hope the game lives up to expectations.
For those who don't yet know, I'm delighted to report that those of us with access to the telecast of the game will be treated to the comedic stylings of Gus Johnson. Let's all pray the food vendors in the arena have their tasers on them.
Due to some earlier technical difficulties, I'm coming to you from a sports bar in Brooklyn, which should add a certain local flavor to the proceedings—there's a 15% chance I witness a mob hit on a patron who welched on his 4-team parlay yesterday. The local weather report for the bar today calls for a dense sausage cover with a 100% chance of beer. On the plus side, at this early hour the bar has a ratio of 12.7 TV's per patron, and the bartender has set me up with a sweet command post in the back.
Since I've noticed that some of these games are being live blogged by people with rooting interests in one team or another, let me assure you that like all credentialed northeasterners, I couldn't find Kansas or North Dakota on a map. My ignorance knows no bounds, which is a wonderful guarantee of objectivity. Off we go.
—-—-—-—-—-—-—-—-—-—-—-
2:35: Beer time again. Thanks to all who followed along, and special thanks to Sussman and Daulerio for plucking me from my previous obscurity to do this. If you somehow need more time-wasting options, check out me and my co-author, Deadspin-endorsed horse racing guru Angelo Grasso, at the Gowanus Rotisserie Baseball Gazette. Cheers.
2:32: Kansas dribble out the clock. That was a hell of a game, with great performances from Collins (32), Woodside (35), and, down the stretch, Aldrich (23). Final score 84-74 Kansas.
2:30: Jeez, there are a lot of good games going right now. KU is doing a good job of making their free throws and keeping NDSU at arms' length. It's gonna take a miracle here. 82-72 Kansas, :33 to go.
2:28: NDSU foul quickly on the inbounds, to the befuddlement of Gus. Given that Gus is one of the great tactical minds of our generation, NDSU might be in trouble. KU make both, then grab the rebound off of a rare miss by Woodside. Collins is back at the line. 78-70 Kansas, :44 to go.
2:27: NDSU hit a desperation 3 to make it a 2 possession game. 76-70, 1:07 left.
2:25: Aldrich dunks again, but Woodside responds with his 3rd 3 of the game; he now has 35 for the day. Aldrich responds with yet another bunny. NDSU has no answer for the Montross! 75-67 Kansas, 1:53 to go.
2:22: Off a timeout, Kansas gets an easy bucket off of a set play. Nice job by Self. At the other end, KU almost strip NDSU, but end up fouling DeJuan Summers. Yes, he plays for NDSU. He hits 2 at the line. . 71-63 Kansas, 3 to go.
2:20: Where the hell are the cheeleader shots in this game? Is the cheerleader situation really that dire in the upper midwest?
2:17: And just like that, NDSU rally. Woodside hits a jumper and a FT. 69-62 Kansas, 3:55 to go.
2:14: It's threatening to get out of hand, so NDSU calls for timeout. NDSU only went 6-7 deep during the season, so losing any player to foul trouble is going to hurt.
2:13: KU harass NDSU into a shot clock violation. Aldrich attacks the rim over Moorman, who is nearly killed and definitely fouled out. Aldrich makes both FTs. 69-59 Kansas, 5:47 to go.
2:11: Collins hits a loooong three, then Morningstar converts a turnover into a layup. Five quick points for KU. 67-59 Kansas, 6:50 to go.
2:09: Drinkability my ass. You know what else is drinkable? Water. Which is what you're selling, just with food coloring added.
2:08: Montross/Aldrich crushes a dunk down on the entire NDSU frontcourt, but then gets called for his 3rd personal at the other end. Tveidt and Winkelman also have 3 for NDSU; NDSU's Moorman has 4, but hasn't done a damn thing all day, so it's unclear how much that matters. 62-57 Kansas, 7:57 to go. TV timeout.
2:06: Software. So. Slow. Dying.
Collins and Woodside trade baskets; Woodside is then fouled on a drive, putting NDSU into the 1-and-1. 60-55 Kansas, 8:28 to go.
2:04: Winkelman commits a charge. KU gets it inside to Aldridge, who is fouled and makes 2. 58-53 KU, 9:31 to go.
2:02: Gus Johnson is starting to feel it. He's rumbling like a '64 Studebaker engine turning over.
2:00: Collins misses another jumper early in the shot clock. Woodside fouled again, though it's non-shooting this time. Woodside is basically playing 1 on 5 right now, no offense to Winkelman and Tveidt. 56-53 Kansas, 11:16 to go.
1:57: The money I could be saving with Geico has a real pretty mouth. That's all I'm gonna say.
1:55: Collins hits a great step-back, but Woodside responds by converting a layup while being shoved into the sousaphone section of the band by a KU defender. Fantastic play, and he'll have a chance to get NDSU within 3 coming out of this TV timeout. 56-52 Kansas, 11:48 to go.
1:53: Morningstar (Kansas's designated three point shooter/white guy) hits an open 3 to push KU further in front. Winkelman responds as only a Winkelman can. 52-48 Kansas, 13 to go.
1:51: You can neither stop nor contain the Tveidt. 49-46 Kansas, 14:26 to go.
1:47: Tveidt (who looks about 35) makes the and-one, and Collins misses a silly pull-up jumper. NDSU blows a layup that would have pulled them within 2 (EDIT—OK, 1. I was told there'd be no math). KU hits a badly needed basket heading into the first TV timeout of the half. 49-44 Kansas, 15:21 to go.
1:43: Mike Tveidt strikes again (dirty!), tipping one home to pull NDSU within 4. Self calls timeout, and looks ready to start revoking scholarships. 47-43 Kansas, 16:44 to go.
1:42: Both teams come out a little frantic, with a lot of up-and-down play and little to show for it. Someone called Mike Tveidt hits a 3 to reestablish order. I'm pretty sure you can get an FCC fine for saying "Mike Tveidt" on camera. 47-39 Kansas, 17:30 to go.
1:39: Second half begins.
1:38: Gus and Len note that NDSU is down by 9 despite shooting above 50% from the three-point line. Sounds ominous for the Bison. NDSU are just milling around on the floor; KU is nowhere to be seen.
1:29:. Before we get back into the action, a question for the North Dakotans out there—is NDSU considered a safety school for those who can't get into the University of North Dakota? And if so, exactly what level of stupidity does that require? Are we just talking about maladjusted farmers, or is it more like people who enjoy a relaxing glass of lead paint after work?
1:20: Collins (17 points) and Woodside (16) have essentially canceled each other out, but Kansas's supporting cast has, unsurprisingly, looked significantly better than NDSU's. Unless the Bison can find another guy to make shots, KU is going to pull away in the second half, as long as Bill Self orders floggings for any KU player that takes a jump shot without making a post entry pass first.
Christ, this is thirsty work. I need a beer. Do me a favor and go bother the Syracuse-SFA blogger for a while. Or just enjoy your live look-ins, if you're lucky enough to have access to a TV. See you for the second half.
1:18: Collins hits a lovely jumper to pad KU's cushion going into the half. 43-34 KU at halftime.
1:17: KU keep threatening to pull away, but NDSU seem to come up with a shot every time things start to get out of hand. Woodside draws a foul about 35 feet away from the basket, though he misses the FTs. Last possession of the half to KU.
1:14: KU stretch it out to 9, but NDSU hit two quick jumpers, one of them a three, to get it back down to 4. Somebody named Brett Winkelman was prominently involved in the NDSU mini-run. I vote that if NDSU loses, Winkelman has to name his eldest son "Sherron". 38-34 Kansas, 2 to go.
1:10: Reason #148 why the NCAA possession arrow sucks: it just robbed us of what would have been the lowest-elevation jump ball in recorded history between the Montross lookalike and one of NDSU's interchangeable farm boys.
1:07: Woodside is keeping NDSU in the game by himself. He's 6-for-7 for 14 points; NDSU's second most effective player has been a guy who looks like Chuck Klosterman's mentally challenged cousin. 34-29 Kansas, 3:48 to go.
1:03: Sonic either needs to open franchises in the northeast or stop making national ad buys. I demand that someone immediately bring me whatever a Fritos Chili Cheese Wrap is. One quibble, though: no bacon?
1:01: NDSU somehow gets an offensive rebound despite not having a player over 6'6" on the court. Way to box out, Jayhawks. Of course, NDSU then decides it's a good idea to try to beat KU off the dribble and put a dent in the backboard with a terrible shot. Morningstar answers with a 3 for KU. 32-27 Kansas, 4:50 to go.
12:58: At the under-8 timeout, NDSU is hanging in there. KU can't quite seem to keep up with NDSU's screen/flex offense, though NDSU doesn't seem to have an answer for a simple post entry pass by KU. 27-25 Kansas, 6:47 to go. Did Stephen F. Austin bother to get off the bus? Syracuse is coming off about 11 straight hours of play last week.
12:56: Woodside hits another three, and NDSU ties it up at 25, with 7 to go in the half.
12:55: The bar is filling up now, and some guy named John keeps bugging me to say hi to someone named Angela. So, Angela, if you're reading this: John has what appears to be a herpes sore on his lip.
12:53: KU dials up their defense, though they don't accomplish anything, as Ben Woodside hits from way the heck out to keep NDSU in contact. 25-22 Kansas, 8:30 to go.
12:50: An ad features clips of the 1999 UConn team. Rip Hamilton looks exactly the same today as he did back then. It's like The Picture of Dorian Gray, except instead of a picture it's Khalid El-Amin that ages.
12:48: Not a ton of defense being played here, which probably favors NDSU more than KU, since NDSU couldn't stop Kansas if they wanted to. Going into the under-12 TV timeout it's 21-19 Kansas, 10:53 to go.
12:46 : Johnson is oddly subdued. Perhaps his BBQ mishap is weighing on him.
12:44 : The teams trade baskets, with NDSU doing damage from deep, while Kansas just drives right over the top of the smaller Bison. NDSU is now 4-4 from three. 17-16 NDSU, 13 to go.
12:40: Sherron Collins hits the first three-ball for Kansas, After an NDSU basket, Collins hits again. He has 7 points in less than 5 minutes of play. 12-11 Kansas, 14:47 to go in the first half.
12:38: NDSU hit another three, though KU come right back with an inside bucket and tack on the and-one. 6-5 NDSU, 17:10 left.
12:33: NDSU hit a three, then dive into the band on the ensuing defensive possession to show their grittyness
12:31/Pregame We've already set the tournament record for total burr haircuts on the floor. One guy has inexplicably chosen to steal Eric Montross's look.
12:28/Pregame The teams hit the floor. Both sides are wearing special NCAA logo patches on their jerseys. Does the NCAA really think the people watching aren't aware this is a college game? Doesn't the presence of NDSU's 6'5" power forward pretty much give it away?