Every time the NFL rolls whatever waterlogged Floridian team has been exiled to London in any given year, I wonder how any foreign, casual observer would ever turn convert based on what happens in these games. They're typically bad, and unwatchably so, but I don't think anything has been less recognizable as professional football than what the Dolphins and Jets produced this Sunday.
In the fourth quarter of today's embarrassment, the following sequence occurred as the Dolphins were driving, down 27-14, first-and-goal from the Jets 4-yard-line: Incomplete short pass right; incomplete short pass right; incomplete short pass left; incomplete short pass right, DEFENSIVE HOLDING, AUTOMATIC FIRST DOWN; short pass, touchdown! [Crowd cheers!] Touchdown called back on a rub call. [Crowd doesn't stop cheering for the touchdown in time to boo/counter-cheer the not-touchdown] [Crowd still confused as next play begins]; short pass left (one yard, to the 11); incomplete short pass left; short pass right; interception by Darrelle Revis in the end zone as Jarvis Landry falls down, as a commentator draws a circle around an illegal formation before the play, and a flag after the play for arguing with the official. The Dolphins come away with no points, and the crowd is put into deep enough hibernation that two plays later, when a miraculous Dolphins fumble recovery is reversed on review, they barely muster a response.
It looks bad for Miami. After two straight 8-8 seasons, this was supposed to be the year. They added Ndamukong Suh to a defense that already had standouts like Cameron Wake and Brent Grimes. They re-signed Ryan Tannehill, who they swore sucks less if you watch the games and just give him a chance, and traded for Kenny Stills to fill the "hopeless 40-yard wind sprint route" hole Mike Wallace left behind. Hasn't really worked out like that.
In week one, the Dolphins barely squeaked past a Redskins team that was already in orbital descent. In week two, they lost to the Jaguars, who are the mother fucking Jaguars. Then, last week, Tyrod Taylor and the Bills hit Miami up for 41 points on 428 yards of offense. And just today, the Jets offense got them for exactly 428 more before the victory formation kneel-downs—although, being the Jets, they scored just 27 points, as they also walked backwards 163 yards on penalties. The Dolphins had no sacks, again, and are sitting on just one for the year. It's a disaster. The defensive coordinator is probably fired, and Joe Philbin can't be far behind, even if he doesn't know it. And the face of the whole disaster is Suh, who was registering Albert Haynesworth comparisons before the ink dried on his $114 million contract.
G/O Media may get a commission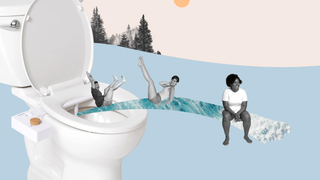 17% off
Tushy 3.0 Warm Water Spa Bidet Attachment
After week 2, word started leaking out of the Miami locker room that Suh had been freelancing in coordinator Kevin Coyle's scheme. The implication was that the team's coaches and maybe some players were already fed up with his shit. But that line of thought changed this week, when Ian Rapoport reported that players staged a "closed-door" meeting with Coyle just three games into the season:
Players have grown frustrated with Coyle, the team's coordinator since 2012, and not just because they have the seventh-worst defense even with Ndamukong Suh and his $114 million contract. Their faith in his schemes has dwindled.

Players had a very frank and contentious closed-door meeting with Coyle this week, sources say, and they attempted to clear the air. The message was his schemes were too complex and constricting, and that they didn't put the players in position to make plays.

They begged him to simplify, and a source said Coyle junked many of the complexities of the defense this week to allow the players to play.
That's the same report that puts Coyle's job on the line in the event of exactly the sort of turd the Dolphins produced today in London. Regardless of what happens at defensive coordinator, it sounds like the Dolphins are ready to pack it in. Here's Rand Getlin's report from NFL.com, also from this week,
One team source said "everyone understands" the coaches are the issue and aren't putting the team in a position to win.

As a result of those frustrations and a host of others — including the length and difficulty of practices — multiple sources said the coaching staff is at risk of losing the locker room if Miami loses in London.

"We've been going out there, and practicing our (tails) off every day, but as players, we're tired of being embarrassed," said one member of the Dolphins. "If we get beat in Europe, (players) are going to throw in the towel. It isn't the players. We have all the talent in the world."
And here's where it comes back to Suh. To listen to them tell it, the Dolphins have "all the talent in the world." And yet the biggest defensive highlights of the season have been Zaprudering Ndamukong's intent on a series of "inadvertent" stomps, like this one today:
(He totally meant that shit.)
Suh is not getting off the line, and not getting upfield, and for damn sure isn't stopping the run. His traditional position is to occupy double and triple teams, and occasional bull his way through to get to the quarterback anyway. Through the early games, while the numbers haven't been there, Suh has filled that role in fits. Today, though, is the first time he's outright struggled against single blockers—Brian Winters (Brian Winters!) manhandled him at on several one-on-ones. Miami moved Suh around the line a little, getting some pressure from defensive end in the first half, but this is mistaking symptom for cause.
Suh's personal production is not the problem in Miami, and rigging the deck to slide him into a stats-earning role isn't going to do much good beyond shutting up a few trolls, especially if Cameron Wake and the rest of the front seven can't get off the one-on-ones they had when Suh was holding the middle. And Miami isn't going to win when the offense can barely crack 100 yards by the fourth quarter, or when it reflexively starts spraying 2-yard slants every time down-and-distance creeps over 15 yards to go, or when you can go eight plays from the four-yard-line and end up losing 10 yards and throwing a pick. And it sure doesn't help that Ryan Tannehill seems to have pretty much no say about where his throws end up when they travel more than five yards in the air, unless he means to throw all those fourth-down balls into defenders' chests or 10 yards beyond his receivers. There are problems with paying Ndamukong Suh $114 million, just not the kind that turn a truly talented team into whatever proto-football-like product has congealed in Miami, and surfaced today in London.
But these are the Dolphins, the NFL franchise most in love with the idea of a football Muhammad rolling into town for the quick-fix dynasty starter kit, that one man, GM or coach or player, can remake a shitty team. Nick Saban rolls into Bill Parcells rolls into Joe Philbin, and the path up the mountain is always just on the other side of firing the asshole you're stuck with now, in favor of the asshole who says he can do better. Suh is just the latest in a long line, and the Dolphins still haven't found their satisfaction. Someday, you have to figure, the disgruntled traveler might consider looking within.
Photo via Getty