"It's a nice number, 72-10. It rings well." - Phil Jackson
As important as specific, historic numbers are to sports, there actually aren't many memorable regular season records at the team level. The 1972 Miami Dolphins famously went 14-0; the 2001 Seattle Mariners somewhat famously won 116 games; in 2004 Arsenal were re-gifted the nickname "The Invincibles" for their undefeated season (though who knows how many games they won). None of those numbers resonate the same way 56 or 100 or 6-24 do.
Then there is the 72-10 record of the 1995-96 Chicago Bulls.
Their record is such an important part of basketball history that at this point—20 years to the day after beating the Cavaliers to advance to 69-9, tying the 1971-72 Los Angeles Lakers for most wins in NBA history—that it's hard to remember that there even was a record before the Bulls broke it. But of course there was, and it was those '71-72 Lakers, featuring Wilt Chamberlain, Jerry West, Gail Goodrich and company, who set a standard of 69-13 that would last for 24 years.
As such, the 1995-96 Bulls set their sights on 70 wins—or, to be more specific, they set their sights on not setting their sights on 70 wins. "It's been pressure-free, but it won't stay that way, because right now the expectations are going to expand a little bit," Michael Jordan told Roland Lazenby, as recounted in his book Bull Run, after beating Dallas to go 21-2. "It's going to start the whole 70-win chorus going again. I think Phil's going to have a tough job maintaining our focus per game so that we're not thinking about 70 wins."
That "again" is Jordan referencing another Bulls team that, though it's not especially well-remembered now, made a serious run at the wins record of its own: the 1991-92 Bulls, who fell short of the Lakers by only winning 67 games, then the sixth-most regular season wins of all time. (That squad was 37-5 at one point, well on track to win at least 70 games before a disastrous 2-4 late-January road trip.)
G/O Media may get a commission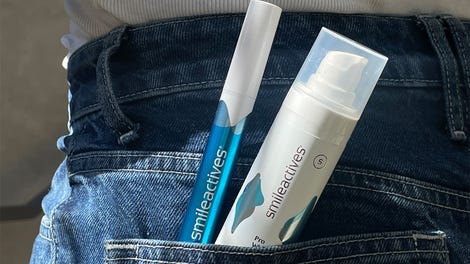 58% off
Whitening Powerhouse Pen & Gel Duo
So despite your and my familiarity with those 72 glorious wins, at the time the number people cared about was 70. It was victory number 70, over the Bucks, that the New York Times sent their basketball columnist to cover, and which prompted Jordan to make this prediction about posterity:
"This was a long time coming. We didn't start out the season to win 70 games. We started out the season to win the championship, and that's still our motivation. It's going to take some time for this to sink in. I feel in the future, when we look back, 70 wins will mean a lot."
As for the victory over the Washington Bullets that netted win number 72? That merited fewer than 50 words from the Times.
For many reasons, it's a miracle the Bulls won as many games as they did. Michael Jordan had missed most of the previous two seasons playing minor league baseball. The team had to manage the notoriously volatile Dennis Rodman—during the season Playboy came out with an in-depth, insane interview with him, for instance—who suffered through injuries. Their schedule had a shockingly high number of stretches of three games in four nights. They played in the strongest division in basketball. Their centers were Luc Longley and Bill Wennington.
Still, they had Michael Jordan, the greatest player in the history of the sport. They had Scottie Pippen, another one of the greatest players in the history of the sport, whose greatness was overshadowed by spending most of his career next to Jordan. They had Dennis Rodman, a ferocious defender and the greatest rebounder in modern NBA history. They had Toni Kukoc, a wonderfully gifted scorer who would have been a starter on any other team, coming off the bench. They had Steve Kerr, one of the greatest sharpshooters in history. They had Ron Harper, a very capable point guard and a tough defender. They were led by perhaps the best coach in NBA history.
Further, in basketball, the team with the best players usually wins. In the NFL, NHL, and MLB, low seeds routinely upset higher seeds in the playoffs; not so in basketball. There are only five players from each team playing at a time, and the best player can play almost the entire game and touch the ball every trip down the court. There are roughly 200 possessions each game, giving the better team more than enough chances to impose their dominance. Most basketball games are a march toward the inevitable.
In watching the 1995-96 Bulls play with the benefit of hindsight, what's striking is less the scale of what they accomplished than that they didn't win every time out. How the fuck did those guys ever lose?
This is the question we're seeking to answer with a series running over the next week or so. We'll examine each of those 10 historic losses, which are, in their way, even more inexplicable than the 72 historic wins. These stories will explore why they lost, how they lost, and to whom the Bulls lost, of course, but by doing so they'll also index what the NBA was 20 years ago, and how it's changed since.
Last night the Golden State Warriors set a new high water mark of 73-9, and thus "72-10" will soon be swept into the dustbin, to be placed alongside 69-13. But while all manner of stories have compared the 1995-96 Bulls and 2015-16 Warriors and debated which was better—Which rules are we playing by? Does Steve Kerr both play for the Bulls and coach the Warriors? Who clotheslines Steph Curry first?—there are a striking number of similarities between the two teams.
They were both led by the undisputed league MVP. They both had tough, brash power forwards. Many of the stars on both teams either went to unheralded colleges or weren't highly regarded coming out of college. Both had a veteran of the previous best team ever on the coaching staff. (Former Laker Jim Cleamons assisted Phil Jackson.) Both had an incredible sixth man. Both were—by the offensive standards of their day—fairly position-less, and featured a non-traditional point guard.
They have their differences, of course. The Bulls were extremely physical at every position, while the Warriors are selectively physical. The Bulls' revolutionary offense was never adopted by anybody but the Jackson-coached Lakers, while everybody in the NBA is imitating the Warriors. The superstars, Stephen Curry and Michael Jordan, are nothing alike. The Warriors possess a depth the Bulls could only dream of.
But in direct ways, the Warriors are heirs to those Bulls. Most obviously this is through Steve Kerr, who carried lessons he learned from playing for the Bulls to coaching the Warriors. It makes for a neat line of continuity, given all the talk about history and legacy surrounding the Warriors right now: to understand a team that's redefined their sport as they prepare to stake their claim as the undisputed best ever, you need to understand the only team with which they're truly competing.
And the best way to understand that team is not to look toward their 72 wins, but toward their 10 losses, the games in which a great team showed that even the best can't hope to be anything more than nearly perfect.