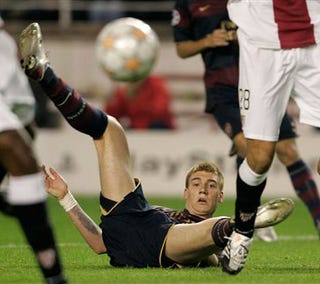 For some reason, great teams always play with more fervor after a loss. We can all assume the New England Patriots will win the Super Bowl if they fall in Week 17, or that Duke basketball will win the Final Four if they trip up in the ACC tournament. But this isn't the case over in England. Instead, the teams over there play with fervour, which is not actually a brand of alcohol, but actually holds the same definition as "fervor." And this is where Arsenal comes in.
The Stockpile Of Weapons 'n Ammo's most recent match was their first loss of the season, albeit in the Champions League and not the Premiership, at the hands of Sevilla. So you know Arsenal's gonna play all determined and pissed off today against Aston Villa, who will play determined and will likely piss before the game, so they don't have to pull a Bill Walker during a corner kick.
Kickoff for this game isn't until 12:15 EST, I believe (there are about three different times published out there, not including Wikipedia, who reports the start time is your mom), but I'm still tucking the soccer post all the way at the bottom because some of you scalawags just relish waking up on Saturdays and talking up a storm about that footie.
Aston Villa - Arsenal [Goal.com]