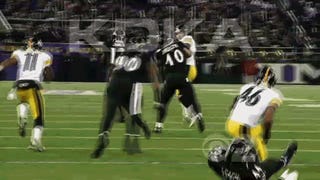 KDKA-TV in Pittsburgh has aired exclusive footage of Jacoby Jones's kickoff return, sabotaged by a conveniently placed Mike Tomlin. As it becomes clear that Jones is streaking up the Steelers' sideline, Tomlin appears to move himself farther into Jones's path.
The camera pans over mid-sidestep, so it's not clear if Tomlin did a full shuffle and moved his right foot out onto the field of play, or if he's just shifting his weight into Jones's path. Intent very much matters, as the league prepares to hand down penalties.
It's pretty much a given the Steelers will be fined. The only recent precedent was a Jets strength coach tripping a Dolphins gunner, a move for which the team was fined $100,000. (And Sal Alosi wasn't anywhere near as close to the field as Tomlin was on Thursday.) Tomlin could be individually fined as well. But early reports that the Steelers could be docked a draft pick were apparently premature—Jay Glazer said yesterday that it's likely to just be money.