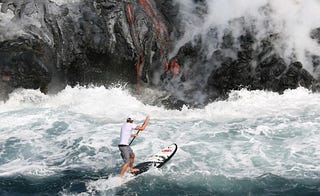 Because, let's be honest, only pansies brave a surf that isn't boiling.
But not in the case of pro-surfer C J Kanuha, who grabbed his board and paddled out to sea to get a closer look as the lava of the world's most active volcano, Kilauea, hit the waters.

Tentative at first, the adrenalin-junkie paddled to within 20ft of the lava, before moving back from water that reached 200C in places, melting the wax on his surfboard and burning his feet in the process.
C J Kanuha, the Genghis Khan of his generation.
Pictured: The surfer who kept his cool in the face of a volcano [Daily Mail]