David Staral Jr. bought the Arena Football League's Chicago Rush in February. He replaced an owner whose tenure had lasted three months before the league "terminated its relationship" with her because of financial issues. But, look: Staral has three convicted felonies to go with even bigger financial issues.
According to the Chicago Sun-Times, the 34-year-old Staral is on probation after being convicted of embezzling money from a former employer—for the second time. In 2007, he illegally steered almost $200,000 from a firm he worked for toward another company he owned, after which a second scam involving the theft of another $250,000 from that same firm was discovered. This after a conviction for state benefits fraud in 2005.
It gets worse. Staral bought the team Feb. 8. But ...
A basic background check would have revealed that he had filed for Chapter 7 bankruptcy a month earlier on Jan. 7.

His bankruptcy filing listed debts of nearly $1.5 million, naming 60 creditors. They include his neighbor, Juli Bark, who says Staral told her he owned a Porsche and promised her returns of $2,000-$3,000 a month if she "invested" $50,000 with him, then refused to account for the cash or to give it back when challenged.

His creditors also include the Sun-Times, and a business that says it paid Staral $14,000 for NCAA Final Four tickets in 2010 but got nothing in return.
A few weeks after he purchased the Rush, Staral said he'd bring in a minority investor with NFL ties, though that still hasn't happened. The team's most recent game on Saturday was played with no cameras, video boards, and internet service (and thus no replay challenges or TV coverage) because the third-party vendors who provide those services haven't been paid. The general manager of the arena where the team plays its home games sent the Rush a notice of default last week and only opened the building for Saturday's game because the league foot the bill.
After it cut ties with Julee B. White, who only bought the team in November but struggled to pay employees and failed to reach an agreement on where the Rush's home games would be played, the Arena Football League hurriedly worked to approve the sale of the team to Staral in time for the start of the season. Crain's Chicago Business says Staral's approval process took about a week, while a source told the publication it included no vetting of his criminal history.
G/O Media may get a commission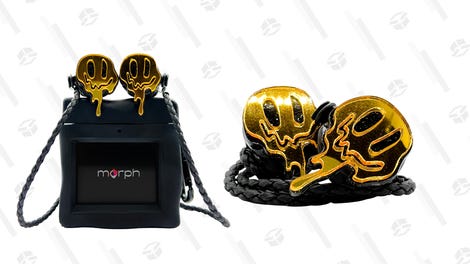 morph audio
Morph Earphones
Crain's also managed to speak to Staral today. He said he hasn't run the team since April 29, and while the league says he's still in charge, a source told Crain's the league has again taken over the Rush's operations. The AFL had been running the Rush for more than a year when White bought it for far less than it was previously worth. And the league itself is only three years removed a bankruptcy reorganization.
The Rush have 11 games remaining this season. Crain's says that's now "up in the air."
Photo via
h/t to Andrew S.